FULLTIME: The Sounders qualified for the Western Conference semifinals with a 1-0 win over FC Dallas, giving them the series win 2-1. Albert Rusnák provided the goal and the defense allowed only one shot (which came in the 89th minute).
SOUNDERS 1, DALLAS 0: Albert Rusnák scored his fifth goal in 10 games, taking a João Paulo pass and powering it past Maarten Paes to take a lead in the 35th minute. João Paulo started the sequence by picking off a pass near midfield.
LINEUPS: The Seattle Sounders will roll with the same lineup they've used the last two games while FC Dallas will apparently be deploying a 4-6-0 formation as Jesus Ferreira and Marco Farfan are out with lower-body injuries.
---
The Seattle Sounders face FC Dallas in a winner-take-all match tonight after the two teams split their previous meetings in the best of 3 MLS Playoffs series. The winner will earn a spot in the Western Conference semifinals where LAFC will be waiting.
If the Sounders advance, they would host LAFC and would also be in line to host the Western Conference finals if they win that game thanks to No. 1 seed St. Louis City falling in their first-round series against Sporting KC.
The Sounders are 16-0-2 in their last 18 home playoff games, an unbeaten run that stretches back to 2013. The New England Revolution technically have the MLS record (a 21-game unbeaten streak that was snapped with Wednesday's loss), but that ignores a loss in the 2002 MLS Cup at Gillette Stadium because it was technically considered a neutral site.
Notes
The Sounders also have an 18-match home unbeaten streak against FC Dallas that stretches back to 2012. The Sounders are 14-0-4 in those matches.
Home teams have only lost one of the last 29 matches between these two teams.
Dallas' two first-half goals were the first time they'd scored twice in a half during a playoff game since 1996.
Absences: Injury, international duty and suspension
Seattle
QUESTIONABLE: Reed Baker-Whiting - L Hamstring Strain
Dallas
OUT: Geovane Jesus (right knee), Tarik Scott (season-ending knee injury), Alan Velasco (knee), Nolan Norris (rest)
QUESTIONABLE: Jesús Ferreira, Marco Farfan
Officials
REF: Fotis Bazakos; ARs: Michael Barwegen, Nick Uranga; 4TH: Pierre-Luc Lauziere; VAR: Younes Marrakchi; AVAR: Peter Balciunas
How to Watch
Match date/kickoff time: 7:09 PM PST
Venue: Lumen Field, Seattle
Global Streaming English: MLS Season Pass (Max Bretos, Brian Dunseth)
Global Streaming Spanish: MLS Season Pass (Rodolfo Landeros & Mariano Trujillo)
English TV: Fox13+
Local Radio: 93.3 KJR-FM Seattle, iHeartMedia (Danny Jackson, Brad Evans & Michelle Ludtka-Furbush)
National Radio (Simulcast): SiriusXM FC 157
Local Spanish Radio: El Rey 1360 AM (Rodriguez, Maqueda, Tapia)
Is this game available to stream for free? No
Will Sounders radio be available as an alternate feed? Yes
Lineups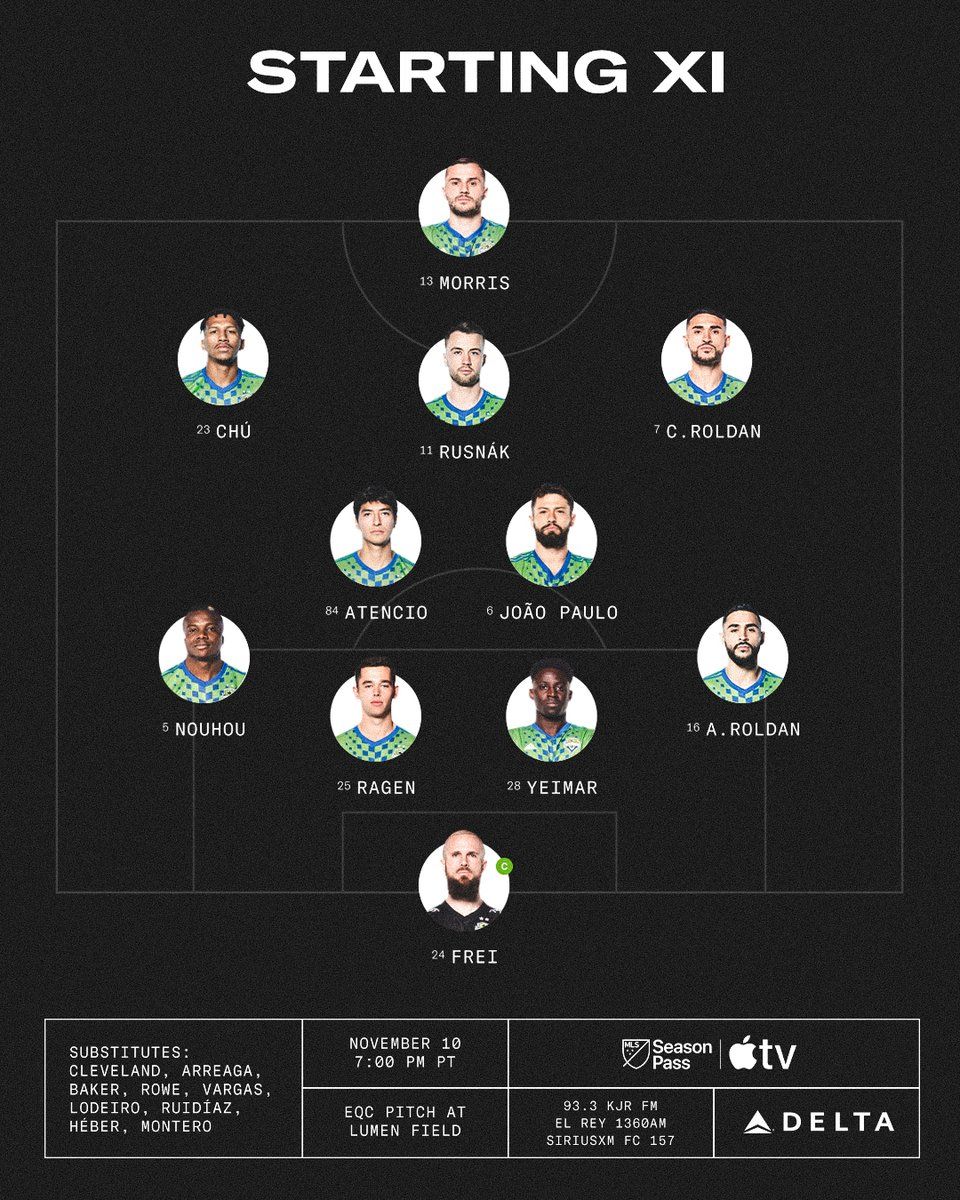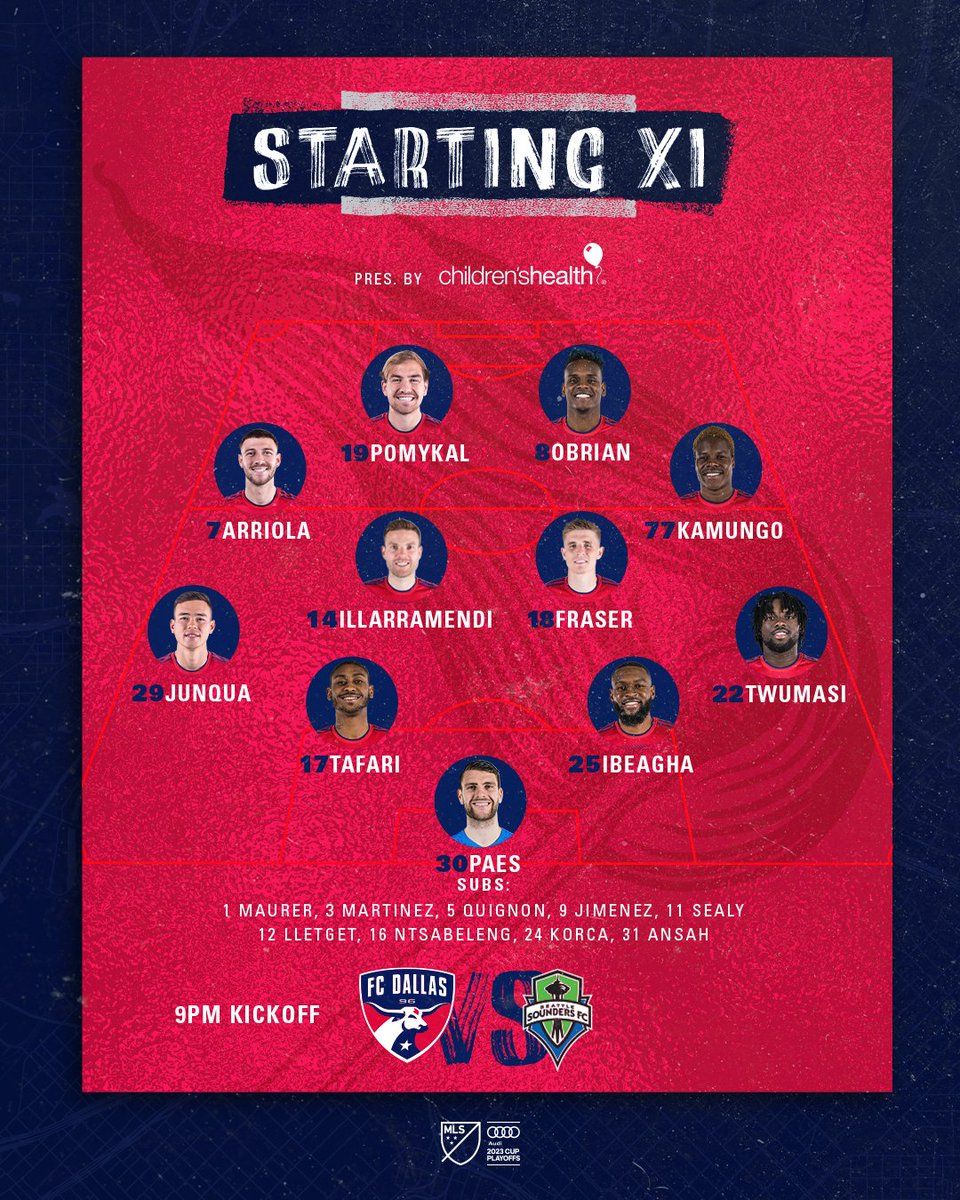 Highlights will be posted as the match progresses.
This is Seattle Sounders vs. FC Dallas; watch with us
Comments