Real Salt Lake has been a headache for the Seattle Sounders basically forever. That's been even more acute in recent years with the Sounders dropping four straight against RSL, including a penalty-shootout loss in the 2021 playoffs. But the 2023 season is a clean slate, and the Sounders are flying high after a big win at home. Let's look at how both teams set themselves up in week one, and how Seattle might turn the tide of poor results against RSL.
Sussing out Seattle
On Sunday night, the Colorado Rapids fell victim to one of the classic blunders — the most famous of which is to never man-mark the Sounders for 90 minutes — but only slightly less well-known is this: Never give the Sounders time to find Morris and Roldan while playing a high line. Colorado gave the Sounders ample opportunities to move the ball quickly up-field to their wingers and paid the price with a 4-0 shellacking.
A lingering benefit of their Club World Cup appearance, the Sounders' sharpness was noticeably greater across every position group. As Colorado kept giving the Sounders room to run in transition, we saw less of the Sounders' new shape in possession that debuted against Al Ahly in the Club World Cup: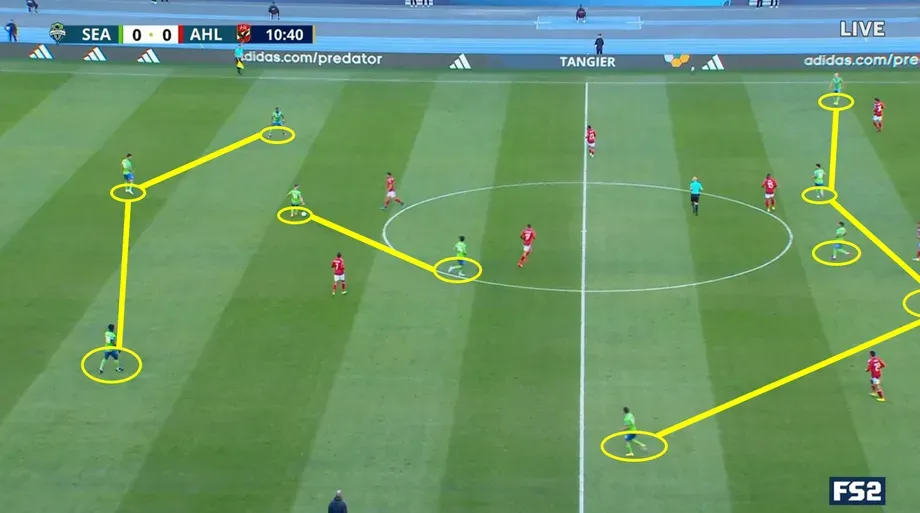 Still, we saw plenty of Alex Roldan high up the pitch, and some very productive moments out wide. Playing a "false wingback" role, as coach Brian Schmetzer calls it, both Nicolás Lodeiro and Albert Rusnák were able to provide attacking width and distribute the ball to the wingers ahead of them for dangerous opportunities.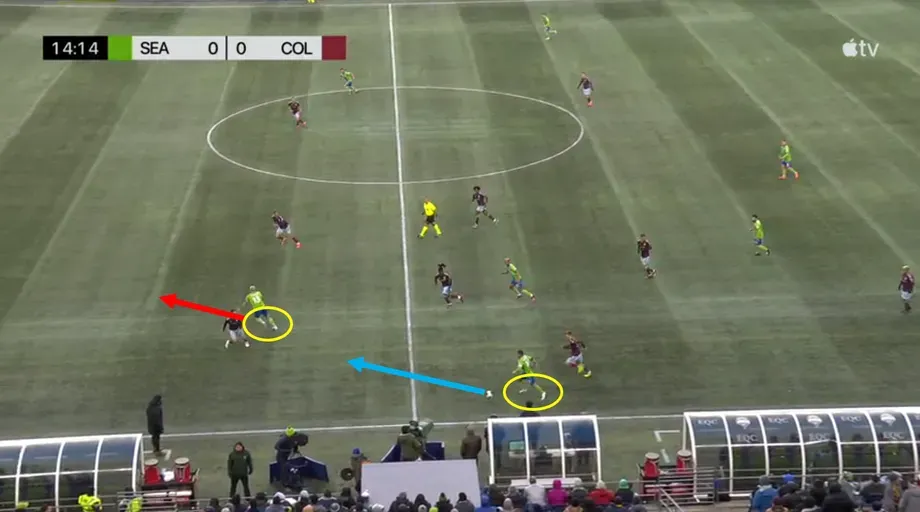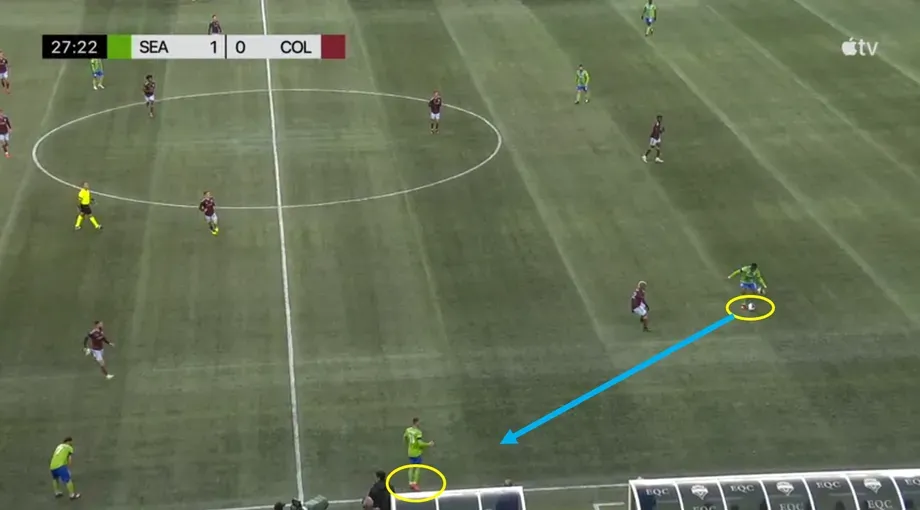 The Sounders attackers switched flanks often, with Lodeiro roaming less in the middle and spending more time out wide. The team's initial defensive shape resembled a 4-4-2 with Lodeiro leading the press up top next to Héber: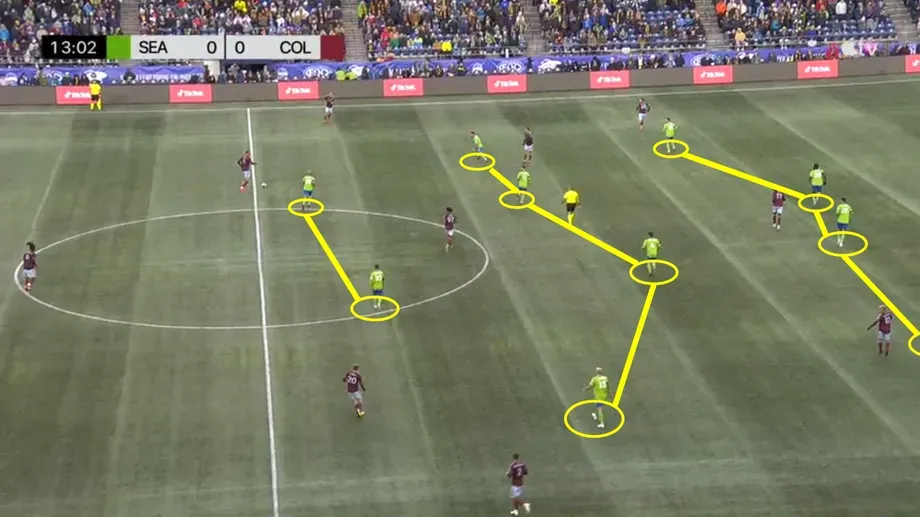 Truly, it is hard to pick out any area where the Sounders starters struggled. Their passing out of the back was excellent, dissecting Colorado's midfield. Their midfield press was disruptive, leading to high quality chances. Their poise in possession looked to be in midseason form compared to Colorado. The wingers consistently got behind the defense, and their playmakers consistently found them with through balls. Even Stefan Frei had a couple of tidy saves to keep the clean sheet.
---
Reckoning with RSL
While Colorado played into the Sounders' hands, Real Salt Lake will almost certainly present a more difficult challenge. Never afraid to be pragmatic, head coach Pablo Mastroeni famously led the RSL side that knocked the Sounders out of the playoffs at Lumen Field in 2021 without taking a single shot over 120 minutes. I would not expect RSL to give the Sounders as much room to run as they found on Matchday 1.
When it comes to generating chances, RSL is all about their wing play. Left-winger Jefferson Savarino is a standout, leading the team in expected goal contributions per 90 in 2022. Despite losing forward Sergio Córdova to the Vancouver Whitecaps in the offseason, RSL doubled down by signing winger Carlos Gómez for a club-record fee in January.
While the wingers grab the headlines, RSL's attacking fullbacks may be just as important to their success. Against Vancouver in their first match of the season, both left back Bryan Oviedo and right back Andrew Brody combined well with their compatriots on the wing. A clever, no-look flick from Oviedo released Savarino in the build-up to their winning goal.
Up top, pacey forward Anderson Julio led the line while Damir Kreilach roamed the pitch as second forward of sorts. RSL defended in a tight 4-4-2: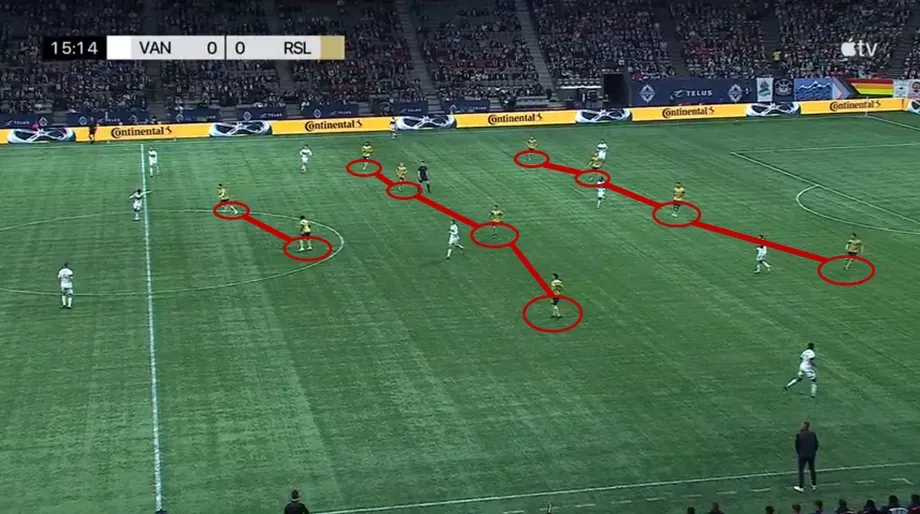 Keys to success against RSL
No Joy for Glad
Justen Glad is the starting point of RSL's build-up, leading all outfield players in progressive-passing distance and coming in second in total attempted passes against Vancouver. The Sounders should look to deny him passing options on the wing, draw him into pressing situations, and create dangerous opportunities as Vancouver did:
Master the Middle
While RSL is strong on the wings, their central midfield pair of Löffelsend and Braian Ojeda was much more vulnerable against the Whitecaps. When Vancouver stepped up to press in the center of the pitch, they were able to prevent distribution out to the wings and, at times, create dangerous transition moments: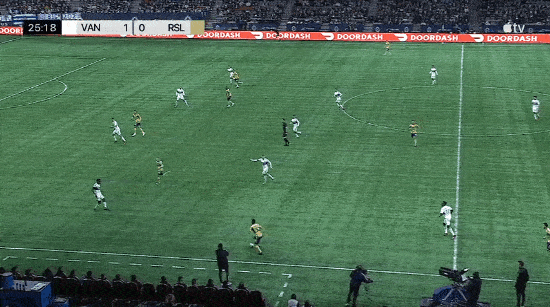 Especially with Löffelsend out, this is a prime opportunity to flex the team's talent advantage in the middle of the pitch, with Lodeiro, Rusnák, and João Paulo all capable of escaping pressure and delivering an incisive pass. RSL's pairing in defensive midfield is a relative weak spot, especially with Pablo Ruiz also missing. Attack it.
A Robust Back Three
Employing Nouhou as a left centerback in a back three means the Sounders have some built-in width in their backline — a useful feature against a team that relies so much on their wing play. Expect both Yeimar and Nouhou to be busy cleaning up RSL's counterattacks out wide.
Keep an Eye on Kreilach
Damir Kreilach is back after missing most of 2022 to injury. While he does not appear to be back in top form yet — he recorded the fewest touches of all RSL starters who went the full 90 minutes against Vancouver — he still found a way to get on the score sheet. Not many second forwards will start a possession sequence by tracking all the way back to provide an option for their centerbacks. But on RSL's second goal, Kreilach did just that, and found the back of the net: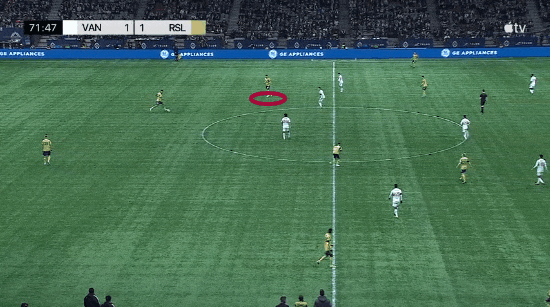 Kreilach is so far behind the play that Vancouver forget about him, allowing him to glide through the midfield unseen and reappear for a strike at the top of the box. While RSL's dangerous possession typically passes through the wings, the Sounders must be vigilant tracking Kreilach's itinerant movement in the middle. On set pieces, Kreilach is an ever-present danger alongside Glad.
Both RSL and the Sounders have kicked off their MLS season with morale-boosting wins, but the Sounders look like the more in-form side. While Seattle may have a talent advantage, RSL are known for leveling the playing field with an intrepid style that has given recent Sounders teams fits. This match will be a great test of the team's tactical tweaks, and perhaps a chance for a little revenge.
Note: all stats via FBref.com
Comments