When the Seattle Sounders step onto the field against Charlotte FC today, they'll be as close to full strength as they've been since early March. My suspicion is that both Cristian Roldan and Raúl Ruidíaz will be among the starters and that Jordan Morris will be available off the bench. The only question mark is the availability of Nicolás Lodeiro, who apparently suffered an adductor strain during Thursday's training session and is listed as questionable for this game.
Even without Lodeiro and Morris in the starting lineup, though, I'm still pretty intrigued to see how this team will play. I'm hardly the first person to observe that the Sounders' slide coincided exactly with Roldan's absence. With Roldan in the starting lineup, the Sounders started the season with a 5-1-1 record and were outscoring opponents 15-4. Since then, the Sounders have gone just 3-5-2 while being outscored 11-6.
It's not that Roldan was so productive — he only has one goal this season — but no one else can both stretch the field and help in possession as effectively as he can. Roldan was absolutely key to what we had affectionately started calling "High Life Soccer." It's no mistake that Roldan is tied for the league lead in +/- goal-difference per 90 minutes (+1.56) and is tied for seventh in +/- xGD per 90 minutes (+.85) this year.
I'm also a bit intrigued to see how Albert Rusnák looks while filling in for Lodeiro. Rusnák has almost exclusively played as more of an 8 since he came to the Sounders, really only playing in the attacking band as a nominal winger. I can only find two instances of Rusnák starting as the No. 10 for the Sounders and both came early in the 2022 season without Ruidíaz in front of him. Assuming he gets the nod, this will be the first time he's started at the No. 10 with Ruidíaz at the No. 9.
I've long argued that Rusnák has been better than many seemingly want to give him credit for, but it's undeniable that he's come nowhere close to producing the numbers he did with Real Salt Lake when he was deployed more as a pure attacker. Rusnák had 41 goals and 29 primary assists in five seasons with RSL, an average of .53 G+A per 90 minutes. He has just four goals and no primary assists (.09 per 90) with the Sounders.
This is Rusnák's best chance to show what he can do when given the freedom to lead the Sounders attack when it's at least nominally close to full strength. He should be free to get into the attack with Ruidíaz and will have plenty of support behind him whether it's Josh Atencio or Obed Vargas sitting next to João Paulo.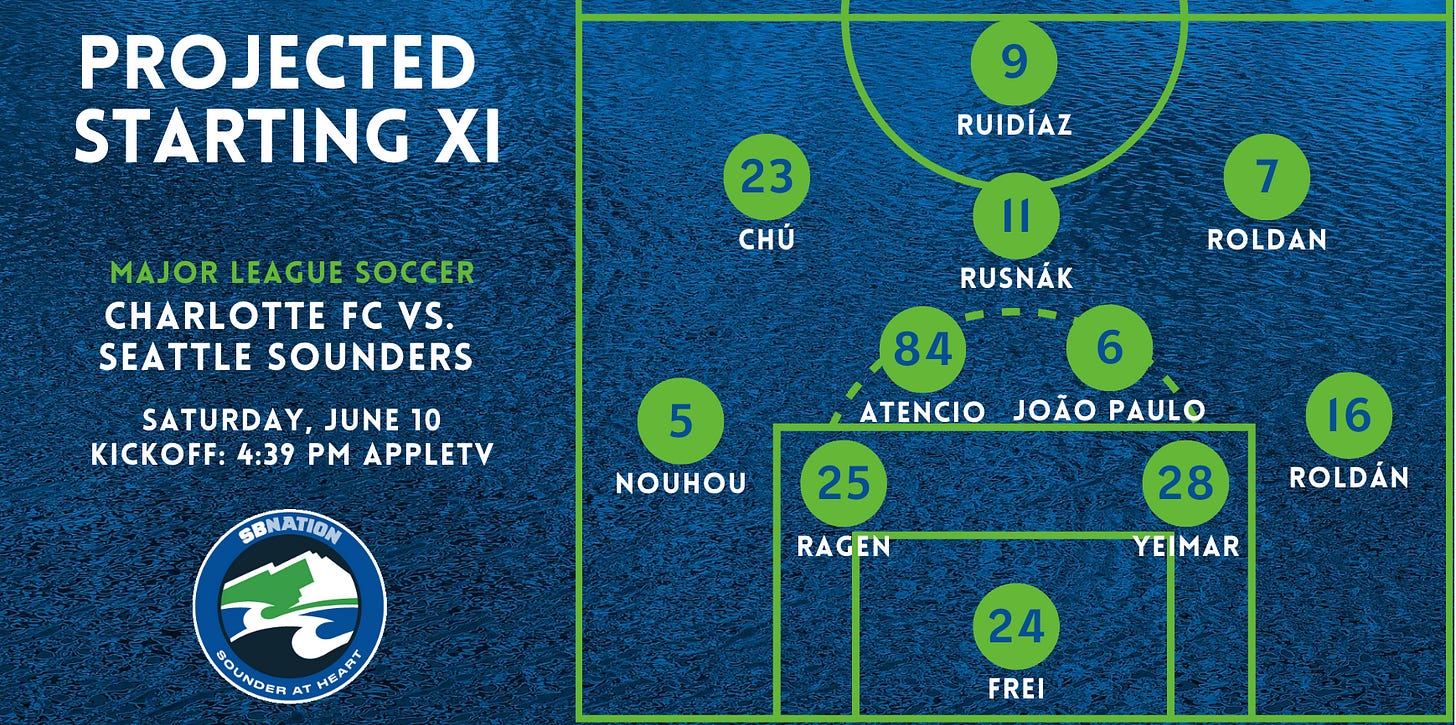 Everything you need to know
Comments