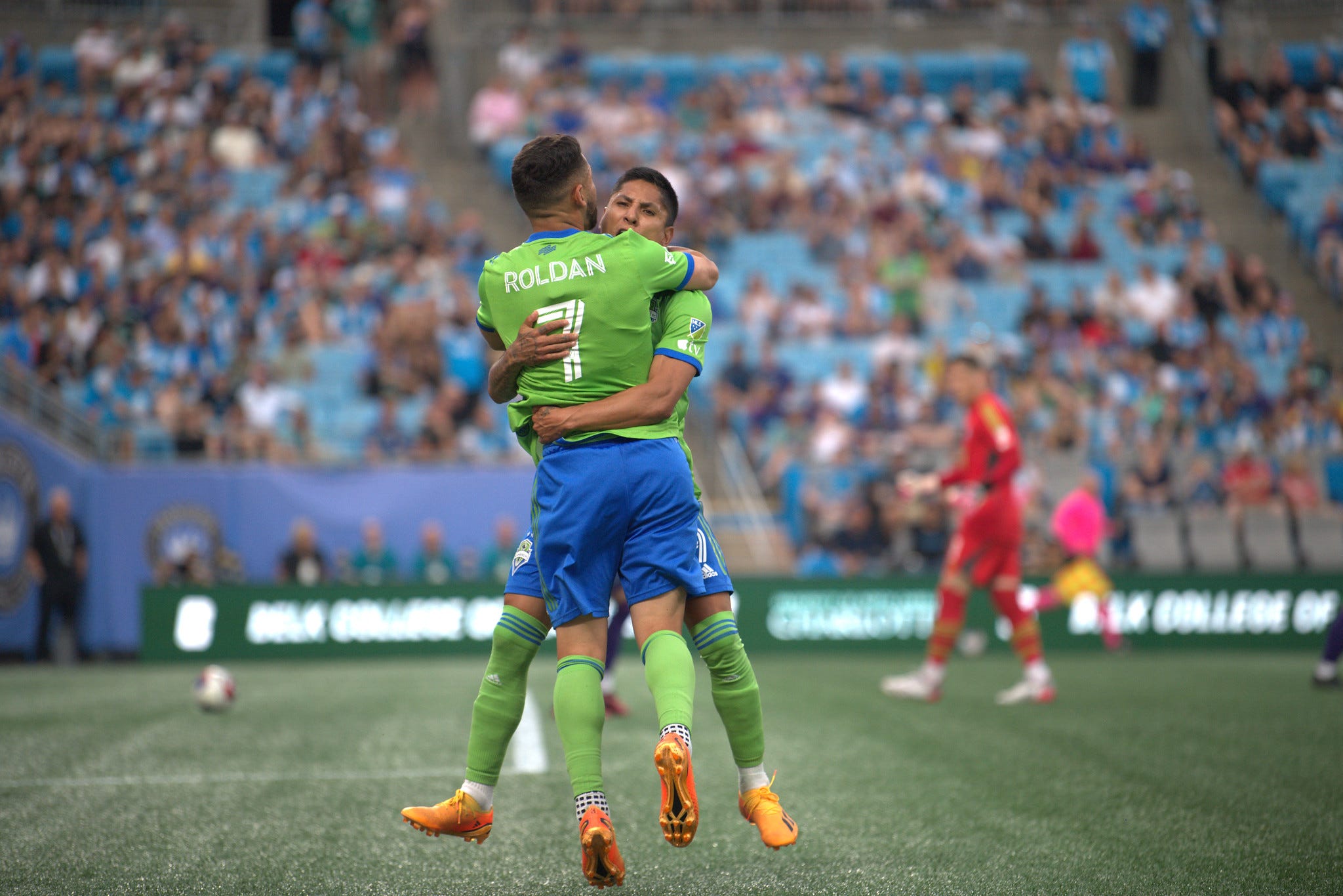 Win, lose or draw, Seattle Sounders matches have fallen into a bit of a pattern over the last 2-3 months. As the Sounders have struggled with fitness and form, they've often played seemingly to keep matches under control. When they're at their best, that often leads to rather boring affairs and we've seen 6 of their last 10 end either 0-0 or 1-0 (they've gone 2-1-3 in those matches). It's only been in games where the Sounders fall behind that we've seen them open themselves up and play anything like the expansive soccer they showcased early in the season.
At the very least, Saturday's 3-3 tie with Charlotte FC was different. The Sounders came out on the front foot, scored first and then went back and force with Charlotte all the way up until the final whistle.
It's undeniably frustrating that the Sounders had to settle for just one point after taking three separate leads, but it was also an undeniably entertaining match and I think we at least saw some progress in terms of the offense. Here are my other observations:
Lineup tweaks
There were four changes to the starting lineup from the previous game and most of them were positive. At the top of the list was Raúl Ruidíaz who finally looked like his old self, not just because he scored two goals. He was consistently popping up in dangerous areas and just looking more confident than he has this year. Getting him back for the second half of the season is every bit as big as a new signing. Cristian Roldan also returned to the starting lineup and once again showed why he's so important, scoring the opening goal and providing the kind of two-way play the Sounders have missed from that position. Obed Vargas was the other particularly notable addition to the lineup, which was predicated on Nicolas Lodeiro going down with an injury that forced Albet Rusnák into the No. 10 role. That change was a bit more of a mixed bag. Vargas was mostly good but also made a few notable errors, the biggest of which was unnecessarily going to ground on Charlotte's second goal. Rusnák was very good in moments, but I'm not at all ready to suggest he should be the starter over Lodeiro. I do hope we see him in that spot more, though, especially when Lodeiro would otherwise be asked to play on short rest.
Something to build on
Considering the Sounders had gone 10 games without scoring multiple goals, it was an undeniably positive step that they scored three in this one. That came on the road all from quality offensive play — as opposed to flukier finishes — was also encouraging. I'm not someone who puts a lot of stock in the "shots on goal" stat, but it was also good to see the Sounders force Kristijan Kahlina into several saves as well. It all added up to an offense that simply looked more confident than they have in months. That can only be a positive.
False dawn?
Positive as those three goals were, I can't quite shake the feeling that this still feels a bit similar to last year. Specifically, this game felt a bit like the 3-3 tie with the LA Galaxy. A quick refresher: The Sounders came into that game having gone 3-7-0 with just just nine goals scored in their previous 10; they fell behind 2-0 and to come roaring back to take a 3-2 lead; and ultimately settled for a tie after surrendering a late equalizer. At the time, I remember feeling like it was a positive step forward. Unfortunately, they followed it up with two straight losses and won just two of their final eight games after the tie.
Show us what you got
The Sounders get 10 days off before their next game against LAFC, who will have played two additional games in that same time and are in the middle of playing 14 matches over the course of about seven weeks. Yes, this game will be on the road against one of the top teams in MLS, but the Sounders need to look at it as an opportunity to make a statement. If they are really contenders, they need to be able to dictate a match like this one even if they are missing a few key pieces of their own.
Everything else you need to know
Comments