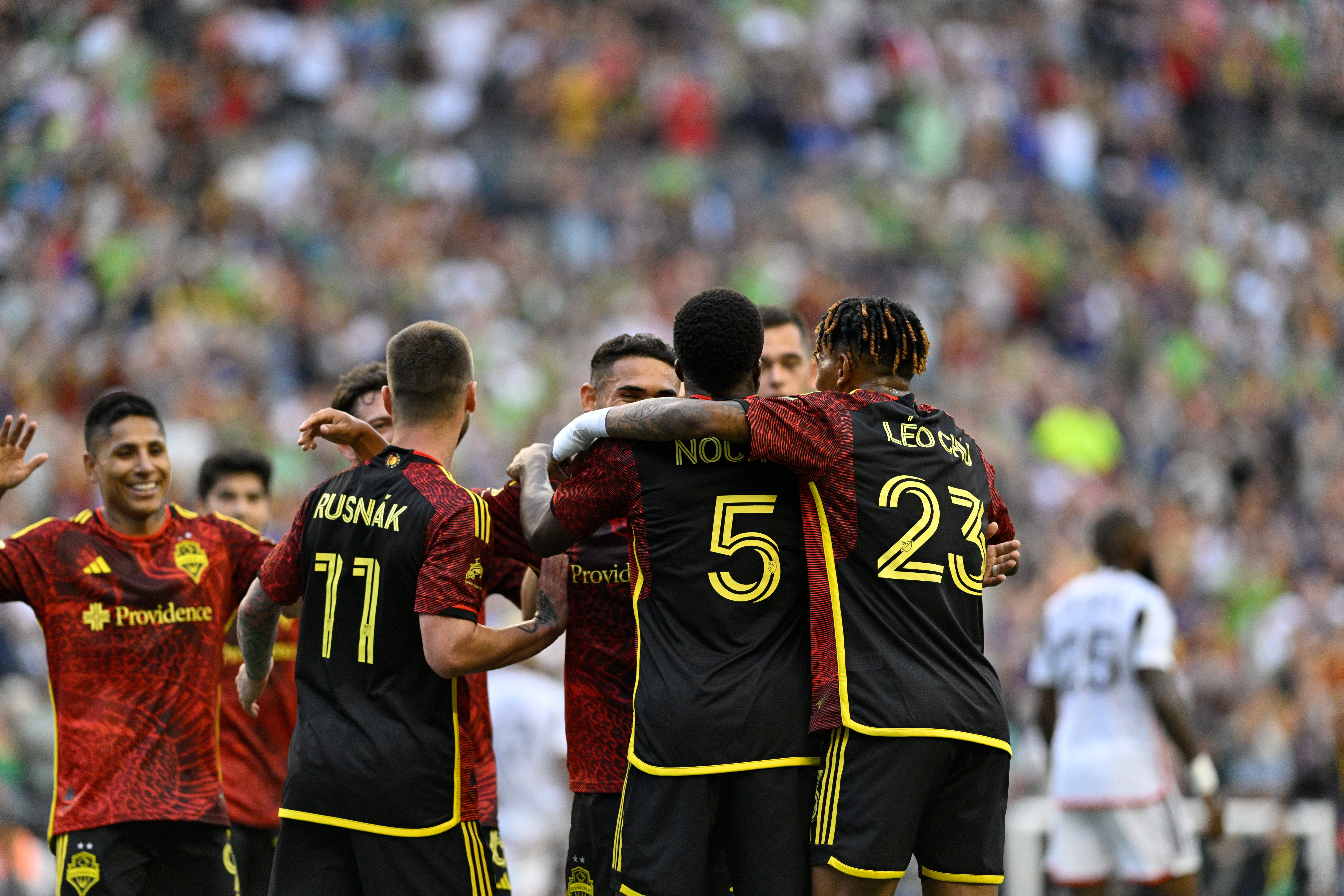 The Seattle Sounders have now played a little more than two-thirds of their regular-season games. After Saturday's frustrating 1-1 tie with FC Dallas at home, they've also played 13 of 17 home games. With the entire league taking a nearly five-week break to play Leagues Cup, now seems like a good time to assess where things are.
Solid place in the table
For all the ups and downs of the first 24 games, the Sounders' place in the Western Conference standings has stayed pretty stable. The Sounders were briefly in first but have spent most of the season between second and fourth, which is where they are now. No one is going to get too excited about fourth place, but the reality is that it would be good enough to get home-field advantage in the first round of the playoffs.
Just as importantly, they're only one point out of second and five points out of first, albeit with one more game played than conference-leaders St. Louis City.
All of which is to say, the Sounders can bemoan a lot of dropped points, but moving up the table is still very much within their reach.
The underlying numbers are good
It's perhaps gotten a little old to talk about stats like Expected Goals, but it's worth remembering that the underlying numbers say the Sounders are doing a lot more right than wrong throughout the season. Depending on which source you use, the Sounders are somewhere between 1st and 5th in terms of xG, are 2nd in xGA and somewhere between 1st and 4th in terms of xGD. American Soccer Analysis rates the Sounders as the 2nd best team in terms of G+ difference (which measures all sorts of different contributions both offensively and defensively) and as the best teams in terms of Expected Points. Just to put things in context, the Sounders finished 2022 with a xGD of -4.7.
In 13 of 24 games, the Sounders have finished with an xGD of .5 or greater and they've only been beaten by a similar margin in five games.
None of this guarantees that the Sounders will actually start to see improved results, but it does suggest that if they continue to play this way that better results can at least be reasonably expected.
The actual numbers aren't as good
While the Sounders it a respectable 4th in the Western Conference table, there are a lot of ways to illustrate what a frustrating season this has been. Chief among them is the Sounders' scoring, with just 29 goals. That puts them on pace to have their lowest scoring 34-game season in their history. They've found scoring especially difficult at home where they have just 15 goals, third fewest in all of MLS. You have to go all the way back to April 8 to find the last time they scored more than a goal at Lumen Field.
Simply put, that's just not good enough and it explains the main reason so many fans are frustrated.
Must figure out a lineup
I don't think Brian Schmetzer has done anywhere close to a perfect job in terms of personnel usage — I tend to think he's used too tight of a rotation — but I don't think that really explains the lackluster results. For the most part, his hands have been pretty tied thanks to a combination of injuries and international duty, leaving him mostly with suboptimal choices.
I think the final stretch is going to be a different kind of problem. As things sit today, Schmetzer has at least 12 outfield players who have shown themselves deserving of serious consideration for the 10 starting spots. I don't think he knows what the best combination will be, but figuring that out is going to be imperative.
The big decisions, I think, are 1. which two of Léo Chú, Jordan Morris and Raúl Ruidíaz start at left midfielder and center forward; 2a. which two of Nicolás Lodeiro, Albert Rusnák, Obed Vargas and, maybe Josh Atencio, start along with João Paulo in central midfield; 2b. who between Lodeiro and Rusnák start at the No. 10 spot.
It's more than a little frustrating that we don't seem much closer to having this answered now than we did a couple months ago, but there's no real point in bemoaning that now.
Can Leagues Cup be a springboard?
The Sounders are saying all the right things about taking Leagues Cup seriously, and honestly I'm not sure why any team wouldn't. Sure, it's a separate competition from MLS, but it's not like there's anything else going on for the next five weeks and there are three Concacaf Champions League spots up for grabs.
Beyond what you may think of Leagues Cup as a legitimate competition, this is simply an opportunity for the Sounders to get right. They will absolutely have their hands full playing at Real Salt Lake — currently one of the league's hottest teams — and hosting Monterrey, historically one of Liga MX's powerhouses. But if they can advance out of the group stage and string some results together, there's no reason they can't use this as a springboard to finish the regular season strong and make a run at another MLS Cup.
Everything else you need to know
The Sounders open Leagues Cup play on Saturday at RSL. The game kicks off at 6:30 and will be available on MLS Season Pass. Their home game in Leagues Cup  will be against Monterrey on July 30 at 6 PM.
Comments