Visit Hobbiton. Snap a selfie with a quokka. Watch the best players in the world play the beautiful game.
I checked so many things off my bucket list over the last two weeks en route to watching Spain hoist the 2023 women's World Cup trophy. It's an impressive feat for a country that qualified for its first women's World Cup just eight years prior.
The Spanish players were ruthless in front of goal and became just the fifth nation to win the Women's World Cup. While their trademark passing remained on display – as Spain averaged 584 passes per game, 25 more than Argentina in the men's World Cup – it was a clinical counter that sealed their win over England.
And that's what this World Cup represented. Individual displays of brilliance combined with some of the best tactical battles in the tournament's history. While all eight OL Reign players ended their World Cup journeys sooner than they hoped, this tournament gave me some of the most significant football memories that I'll cherish forever.
Here are my five takeaways from the tournament:
A group stage to remember
We only had to look to the opening match to know that this group stage would be different. New Zealand, who had never won a World Cup match, took down Norway in front of a home crowd.
So many exciting upsets followed.
Linda Caicedo scored one of the best goals of the tournament as Colombia defeated tournament favorite Germany. World Cup debutants Morocco advanced to the round of 16 in Germany's place. The Philippines also earned their first win in their first-ever World Cup.
When OL Reign head coach Laura Harvey was asked in a press conference about her reaction to the World Cup group stage from a tactical perspective, she leaned forward, smiled, and was noticeably excited to dive into the question.
"I could talk about this for a long time. I think tactically, the biggest thing is that everybody is organized. Every single team. Everyone has a defending strategy that they're going to put together for each opponent. Everyone has a defending strategy that's going to maybe change depending on the opponent. And then, we're not just going to defend for our lives. We're going to defend to then do this. It's fun to watch."
Data from FIFA's technical study group confirms Harvey's comments. The average winning margin in group-stage matches decreased from 2.06 goals per game in 2019 to 1.92 this year, and the percentage of matches ending in a draw increased from 8% to 21%. Teams across the board were more organized and, as Harvey noted during the press conference, could compete physically with any of the top-ranked nations over 90 minutes.
Diving even deeper into tactics, as FIFA's technical committee also noted, more teams were defending in compact low or mid blocks in the group stage. As a result, fewer teams were going down the middle through their opponents.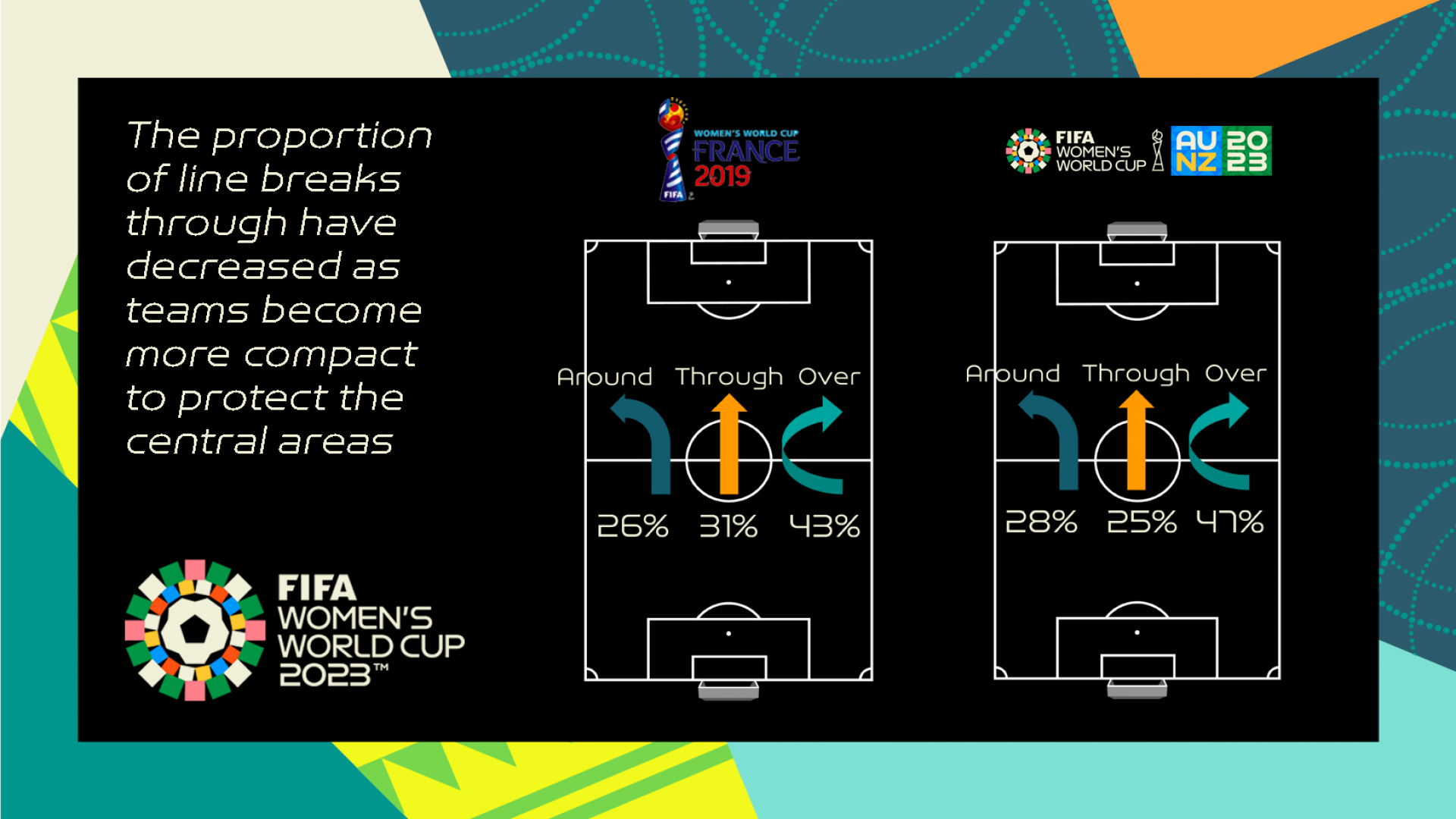 In no match was that more evident than Japan's 4-0 win over eventual champions Spain. Japan sat back defensively, chose when to apply pressure strategically, and pounced in transition – beating Spain's high defensive line.
This was yet another tactical surprise in the group stage that Harvey called out.
"Japan go against Spain and go, 'Right, if we high press them, Spain are just going to play around us. So we're just going to drop off, get our defensive shape right, and transition on them.' No one in the world would have thought that about Japan."
This was the first time the World Cup featured 32 teams, and some were asking questions leading into the tournament about whether the expansion would lead to a decrease in quality – pointing to the United States' 13-0 blowout against Thailand in the last tournament.
In fact, the opposite happened.
There were very few blowouts in the group stage. For the first time, three African teams advanced to the Round of 16: Morocco, Nigeria, and South Africa. It felt like there was more up in the air heading into the final group-stage matches than ever before.
As Ride of the Valkyries contributor Southern Sylvs noted, the group stage proved there isn't a talent gap in women's soccer. As players in countries like Nigeria, Jamaica, Haiti, and Canada continue to fight for equal treatment and funding, the main thing holding countries back is investment.
Club soccer helped this World Cup shine
Playing in just their second World Cup, Jamaica advanced to the knockout rounds and didn't give up a single goal in the group stage despite going up against France and Brazil, ranked fifth and eighth in the world heading into the tournament.
As Jamaica defender Allyson Swaby said on the RE-INC podcast, more opportunities to play professional club soccer throughout the year is a big reason for this. While it's true that some federations are investing more in their women's national teams, Swaby said what impacted the players from Jamaica more was their competitive club environments.
"For our team, you kind of look at where our players are now compared to where a lot of them were four years ago, and I think on a club level what they're doing every day, the level is just higher," Swaby told Christen Press. "I think a lot of that experience for our team specifically is what allowed us to find success, and I think that professionalism that a lot of us have grown into and that experience that we've gotten is how you saw what we did."
We're truly lucky that 61 players called into the World Cup feature in the NWSL. Here's hoping that every league continues to grow and provide professional opportunities to women. The results speak for themself.
The World Cup hosts the women deserve
This was my fourth women's World Cup – having also attended the 1999, 2015, and 2019 tournaments – and it was the first time it felt like I landed in a World Cup country or city. Signage greeted fans the second they landed at host city airports. Fan zones were heavily promoted in each city, highly attended, and had jerseys and World Cup merch in addition to fan activities and watch parties.
Every driver or tour guide spoke about the World Cup and was clearly keeping up with the results. Free bus and rail rides with a World Cup ticket brought you to matches.
It was evident that Australia and New Zealand took pride in hosting the World Cup, and it made for a much better fan experience. Money goes a long way in advancing the women's game. So does intention. These two host countries did things with intention, and it resulted in the most attended women's World Cup in history along with significant increases in revenue.
Australia's run during the tournament beautifully added to that magic. The Matildas captured a nation, and it was an indescribable feeling to be part of that history. I got chills when the stadium of 75,000 – a sea of yellow and green – all sang in unison to the Australian national anthem ahead of their semifinal against England. I'm not sure a stadium has been louder than it was when Sam Kerr equalized. Videos can't truly capture the feeling of an entire nation erupting in joy.
In addition to all those in the stands, more than half of the country watched the game on TV. Many more filled bars and attended watch parties.
The Matildas, and all those behind the scenes who organized this tournament, deserved this moment. I truly hope the country makes good on its promise to invest in growing the women's game to help the next generation do even greater things.
The future is now
Spain's Salma Paralluelo, just 19 years old, deservedly won the Best Young Player award. She was electric coming off the bench in Spain's quarterfinal and semifinal matches – scoring in both appearances.
Beyond Paralluelo, this tournament belonged to the young players.
I already talked about Caicedo, who scored one of the goals of the tournament and showed that at just 18 years old, she's ready to shine at Real Madrid and lead Colombia into the future.
Australia's Kyra Cooney-Cross was so consistent in the Matildas midfield at just 21 years old, playing nearly every minute in their historic run to the semifinals. Mary Fowler, with her signature black gloves, was an endless engine and is one of the most graceful players on the ball that I've witnessed. She's only 20 years old.
19-year-old Aoba Fujino had one goal and two assists for Japan. Hinata Miyazawa, the Golden Boot winner with five goals, is just 23 years old.
Wingback Esmee Brugts appeared in all five matches for the Netherlands in their run to the quarterfinals, scoring two goals along the way. It's no surprise that she just signed for club powerhouse Barcelona. The 20-year-old has a bright future.
Olga Carmona, who scored the game-winner for Spain in the final, was the second youngest captain in World Cup history at just 23 years old.
This tournament showed that the future of women's soccer is so, so bright. It also proved that the young players are ready to hang and lead right now.
It's always more than football
If you watch one thing today, make sure it's this story from New Zealand and Angel City defender Ali Riley. Chatting with Midge Purce for The 91st – a podcast Purce and Katie Nolan created for the World Cup – Riley told the story of the impact she made when she painted her fingernails in the colors of the Pride and Trans flags.
To Riley, this was one small way she could be an ally to the LGBTQIA+ community. Her story demonstrates the bigger impact soccer can have off the field.
Unfortunately, after the Spanish players put on a brilliant display, Luis Rubiales, president of the Spanish football federation, kissed Jenni Hermoso on the lips without her permission – drawing attention back to just how much these women are still fighting for.
As Purce said during the final episode of The 91st, women's soccer players can't just stick to sports. They have to fight for something bigger.
"I think, in light of what we just witnessed on the World Cup stage, it just reiterates that there is not a space at the moment to just play soccer," Purce said. "You don't think people just want to play soccer?"
---
Things still aren't perfect. More investment is needed. Women deserve to play soccer without threats of sexual assault and violence. They deserve to have professional training environments throughout the year. Despite these obstacles, these players showed that women's soccer can stand alone, on its own stage, and shine.
Comments