After a disappointing run of road matches, OL Reign are back at Lumen Field on Sunday afternoon and will be looking for three important points to keep them comfortably in the playoff race. They host the Orlando Pride in a match that kicks off at 3 PM PT and will air on FOX 13+ locally.
The game will also stream on Paramount+ for fans in the U.S. and the NWSL website for international viewers.
It's the start of what could be a busy week for OL Reign. After Sunday's match, they host Racing Louisville on Wednesday, September 6, in the NWSL Challenge Cup semifinals. The winner will advance to the final on Saturday, September 9, in a match that kicks off at 9:30 AM PT. The location of that match hasn't been announced, but we know it will not be at Lumen Field.
Here's everything you need to know about the match.
Recent results
OL Reign is coming into the match with a three-game losing streak for the first time under Laura Harvey since 2013. That started with a 1-0 road loss to Orlando and continued with two other road defeats: a 1-0 loss to Kansas City, and a 2-1 loss against Angel City. They'll be extremely motivated to turn that around at home on Sunday, where the Reign are 5-2-1 this regular season
The Orlando Pride, on the other hand, have won two of their last three regular-season matches. All three games have been at home. After beating the Reign 1-0, the Pride took down Chicago 5-0 and concluded with a 2-1 loss to San Diego.
Standings
With four regular-season matches remaining after this weekend, OL Reign has a 7-7-3 record. The Reign's 24 points put them in sixth place heading into the weekend, just two points above the Pride in seventh. Orlando is 7-9-1.
"We understand the gravity of this game, we've spoken about it as a playoff game because it is. That's how important it is," OL Reign head coach Laura Harvey said ahead of the match.
In 17 games, the Reign have scored 24 goals and conceded 21 (+3 goal differential). Orlando has scored 21 and conceded 23 (-2).
Head to Head
The Reign has been dominant against the Pride at home – going 4-0-3 all-time at home and outscoring the Pride 16-5, including three clean sheets.
Their 1-0 road loss put the Reign at 6-2-7 all-time against Orlando.
Who to Watch
Rookie Messiah Bright was named the August Player of the Month and Rookie of the Month, marking the first time a player has won both honors in a month. Bright has scored seven goals across all competitions this year, and six in the regular season. She's been on a tear recently – scoring three goals last month.
As you can see from the below chart (created by FBCharts using FBref data), Bright does a lot of work defensively from the center forward position. She's great in the air – winning 2.41 aerial duels per 90 – and creates a lot of chances by dribbling at or around opponents. She makes dangerous runs into the box as well, and the Reign will need to be precise in the box defensively.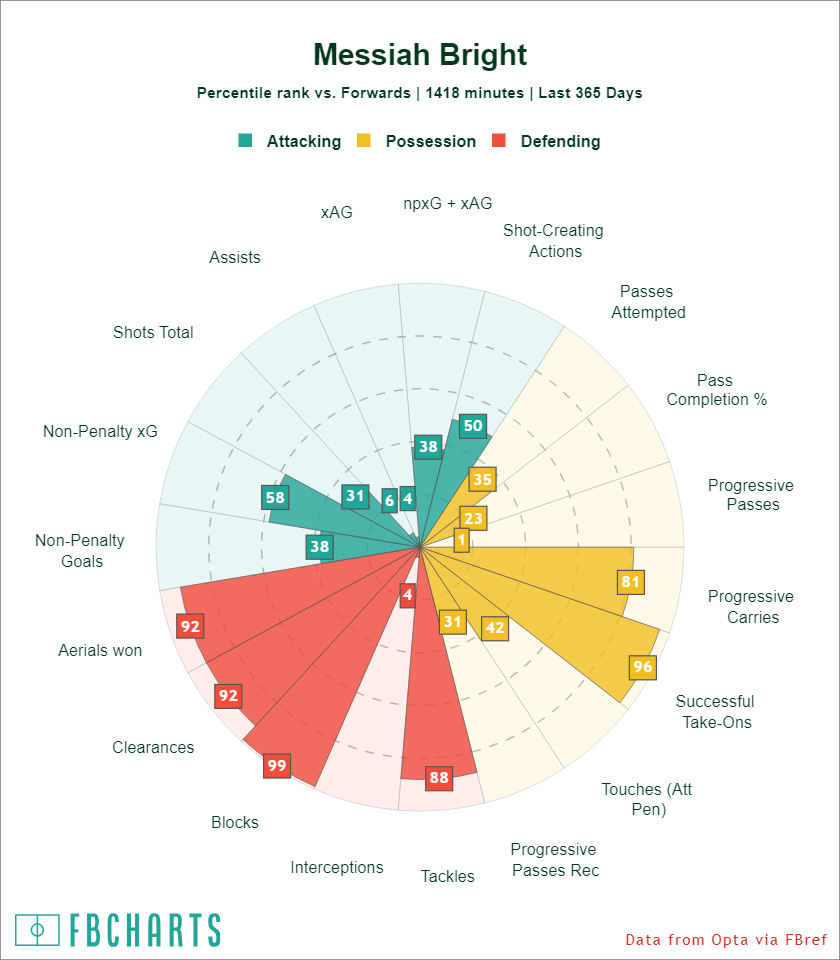 In fact, Bright is the player who scored Orlando's lone goal against the Reign last time these two clubs met, beating Lauren Barnes into the box to finish off a cross.
What to Watch
Handling Orlando's pressure
While the Pride aren't necessarily a high-pressing team, they are an extremely athletic side that likes to pressure opponents into mistakes and pounce in transition.
They pressed OL Reign effectively in their last match, often lining up in a 4-4-2 defensively as the Reign were building from the back – and stepping up to press more intensively if the ball moved backward. While the Reign were able to build out of this pressure at times, it too often forced them to go long.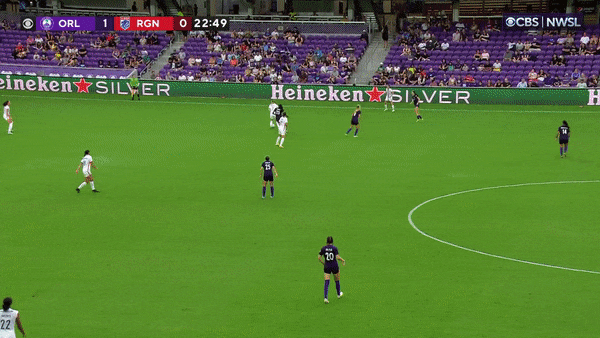 Here's another stat that highlights the impact of Orlando's transition game. The Pride are third in the NWSL in direct attacks, which Opta defines as open play sequences that start just inside the team's own half, have at least 50% of movement towards the opposition's goal, and end in a shot or a touch in the opposition box. When they go toward goal, they go quickly.
"They have threats in multiple areas on the field. They have pace higher up the field. They're willing to move the ball around at pace and they press and they make it really difficult for the opponent, so I think we have to be prepared for that," Harvey said before the Reign's last battle against the Pride.
As Harvey noted, Orlando isn't a team that looks for long balls over the top to their forwards. In fact, they attempt the second-fewest long passes in the league. Instead, Orlando prefers moving the ball quickly – and they spread the passing out between their backline and double-pivot midfield. OL Reign's midfield and front line are going to need to close down on Orlando quickly to prevent them from transitioning. They'll also need to win first and second balls.
Vulnerable on crosses and corners
The last three goals that Orlando has given up have come from crosses or corner kicks. Both of San Diego's goals in their recent match came from corners.
The Pride have given up the second-most set-piece shots (58) and have conceded the second-highest expected goals total (5.16 xG against) on set pieces. That's resulted in five set-piece goals, while the Reign have scored five times on set plays.
The Pride are vulnerable on open play crosses as well. With just a little more precision, OL Reign could have scored against Orlando with one of their 10 crosses.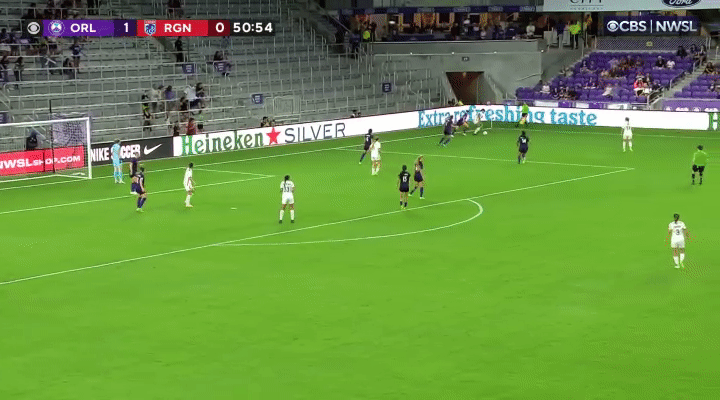 Look for the Reign to try to get Sofia Huerta more involved in dangerous spots on the right side when she matches up against left back Kylie Strom, and for Megan Rapinoe to whip in balls from the left – whether she starts or comes off the bench.
A new centerback pairing
In their last two matches, the Pride have rolled out a brand-new centerback pairing of Rafaelle Souza and Emily Madril. The rookie Madril has grown into the season and now looks like a veteran on the backline.
Rafaelle joined the Pride after concluding her World Cup run with Brazil, and she most recently had 35 appearances at Arsenal, scoring four goals. She was Brazil's captain during the World Cup and was recently named to the Professional Footballers' Association WSL Team of the Year for the 2022/23 season. Rafaelle is a dangerous long-range passer, and she scored in her Pride debut. She's quite good.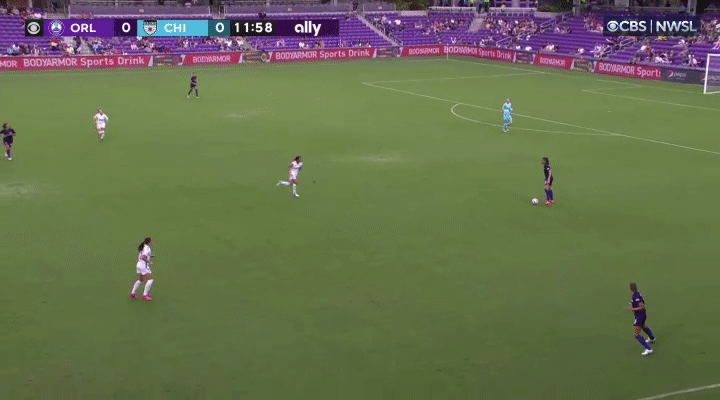 Since Rafaelle's arrival, Madril has moved from left centerback to right centerback. The pair have looked solid together, but they are clearly still building a connection. Can the Reign take advantage of that?
Injury / Availability Report
OL Reign
OUT: None
Orlando Pride
OUT: Carrie Lawrence (SEI – knee), Adriana (thigh), Thais Reiss (thigh)
How to Watch
OL Reign hosts the Orlando Pride at Lumen Field on Sunday, September 3. The match kicks off at 3 PM PT and will air on FOX 13+ in addition to streaming on Paramount+ (U.S.) and the NWSL website (international).
Comments