On Friday evening, around 32,000 people are expected at Lumen Field to witness OL Reign's push for the playoffs and celebrate Megan Rapinoe, someone who has helped shine a spotlight on Seattle, women's rights, LGBTQIA+ issues, and women's soccer.
It's hard to sum up Rapinoe's impact in one story.
In fact, it's impossible.
Instead of doing that, I want to highlight what it's been like getting somewhat of a front-row seat to the career of someone who has transcended the sport. We all know about her impact on the game. From my time covering Rapinoe and the Reign, I want to talk about the power of her joy and her kindness.
But first, to tell you a little about Rapinoe, I need to share a few things about my own journey.
I was voted "Most Wild and Crazy" for my high school yearbook. In a small town, I stood out. I dressed a little weird, was a big goof who never took herself too seriously, and didn't really stick to one group. Then I got to college, and I lost myself in the sea of new faces. I let doubt creep in and I stopped eating and started shrinking.
Finding joy again with my soccer team brought me out of that funk. They loved my endless energy on and off the field. They loved my pre-match hype poems. I found myself again, at least when I was around soccer.
But then I graduated, and the world was a big, scary place all over again. I entered my career and questioned every day if I was good enough. I'm not going to tell you that Rapinoe changed that – imposter syndrome never leaves you – but I will say she has played a big role in how I've grown as an adult and how I live my life today.
I was drawn to Rapinoe back in 2011 when I tried to sneakily watch streams of the World Cup at work.
Back then, donning freshly dyed platinum blonde hair, Rapinoe scored against Colombia in the group stage and ran to the corner flag, grabbed a giant microphone used for the broadcast, and sang, "Born in the USA!"
During that tournament, I fell in love with Pinoe – both the player and the personality. Her leg could do things no other player could do, like whip in a perfect cross to Abby Wambach to help save the World Cup for the U.S.
Rapinoe played with a joy and fearlessness that was contagious. She tried things no other player would dare to try.
Eleven years later, that same Rapinoe helped propel the Reign to their third NWSL Shield last year, using those gumby-like legs to create magic.
That's the thing I've learned about Rapinoe. She hasn't changed.
The spotlight has just shined brighter on the person she always was.
"The interesting thing with Pinoe that I find really intriguing about her is she's never changed," OL Reign head coach Laura Harvey said on Tobin Heath and Christen Press' RE-CAP Show during this year's World Cup.
"I remember the first time I ever met her face-to-face, she met us in Western New York and we'd never met. And she comes into the hotel, and obviously she knew some of the players. She jumps on them, hugs them, wraps her legs around them, and I'm like, 'This girl.' And then today, she would do no different. She'd be exactly the same."
That joy that Harvey mentions – that authentic, genuine personality – is the Rapinoe I'll remember watching with the Reign or speaking to at press conferences.
Before "The Pose" in the 2019 World Cup, there was her crazy dance after scoring in the NWSL playoffs back in 2015.
Rapinoe confirmed after the match that she was inspired by a viral video of a dancing baby – and she pretty much nailed it.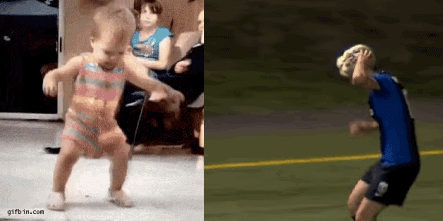 Amidst all the pressure to perform while advocating for equal pay, racial justice, or trans rights, Rapinoe always found a way to play with joy – and it showed in her performances.
In a must-read piece for The Messenger, Tamerra Griffin wrote about Rapinoe's legacy of joy – noting that "the radical practice of joy has roots in Black feminist scholarship and art."
As Griffin points out, Audre Lorde – a queer Black feminist thought leader, activist, and poet – once wrote, "Caring for myself is not self-indulgence, it is self-preservation, and that is an act of political warfare."
It's fitting that Rapinoe chose to put Lorde on the back of her jersey in 2019 when the U.S. national team selected women who inspired them for a match held during Women's History Month.
"Whether we were kneeling, or talking about equal pay, or trans rights, there's so much pressure," she said to Griffin. "I was like, 'We have the right to enjoy what we're doing as well.' And I think a lot of times my joy, or expressions of joy, was absolutely an act of resistance, or a big, glaring sort of middle finger to everyone."
When the spotlight shined brighter on Rapinoe after 2019, she could have easily buckled under the scrutiny. I would have. People tried to strip her and her teammates of the joy they deserved.
Rapinoe didn't buckle. Instead, she inspired a whole new generation to not only pick up a soccer ball, but to celebrate and love the unique person they are. And to channel that love into something bigger than themselves.
At a press conference ahead of Rapinoe's last regular-season home game with OL Reign, Harvey showed some rare emotion when talking about the impact Rapinoe has had on her personally.
"I was a young coach when I came here [to the Reign], I was 32, and I'd never lived authentically really. Being around someone like Pinoe," Harvey said before having to pause and hold back tears. "She gives you the platform to think that you can be whatever you want."
What a beautifully powerful lesson.
Getting to cover Rapinoe for a decade, she truly does make you feel like you could be or do anything. That's the Rapinoe who has helped me find my voice covering this sport despite my endless doubts, or realize as an adult that I had my own queer journey to explore. That's the Rapinoe who helped me take steps to speak up more for myself and my colleagues at work.
But when all is said and done, if there's one particular way that I'll remember the Rapinoe I got to see and know, it's her kindness that will stick with me.
"She was somebody who just welcomed me so much with open arms," Crystal Dunn shared after Rapinoe announced her retirement plans earlier this year.
"Pinoe is an incredible person, human being, friend, teammate," Dunn said in a video captured by Women Kick Balls, holding back tears. "I just love her so much. She's been so key for me in my career."
When Jacob Cristobal and I had the chance to interview Rapinoe one last time – along with another long-time Reign beat reporter Jeff Lageson – she walked into the room, smiled, and said, "The Other OGs!"
A small moment to some, sure, but one that shows who Rapinoe has always been behind the scenes.
As we wrapped up the interview, which Jacob captured beautifully in this piece, I told her about my friend's son, who at 9 years old was starting to become a big soccer fan. When I shared that he did her pose after scoring a goal this summer, her response was so genuine.
"I love that! Please tell him hello for me."
That's the Rapinoe that I'll always remember. The one who was goofy and bold – and of course produced moments of magic through her entire career – but most importantly, a person whose kindness always shined the brightest.
That's the Rapinoe I hope everyone has the chance to celebrate tonight at Lumen Field as we honor her legacy and impact – on and off the field.
Comments