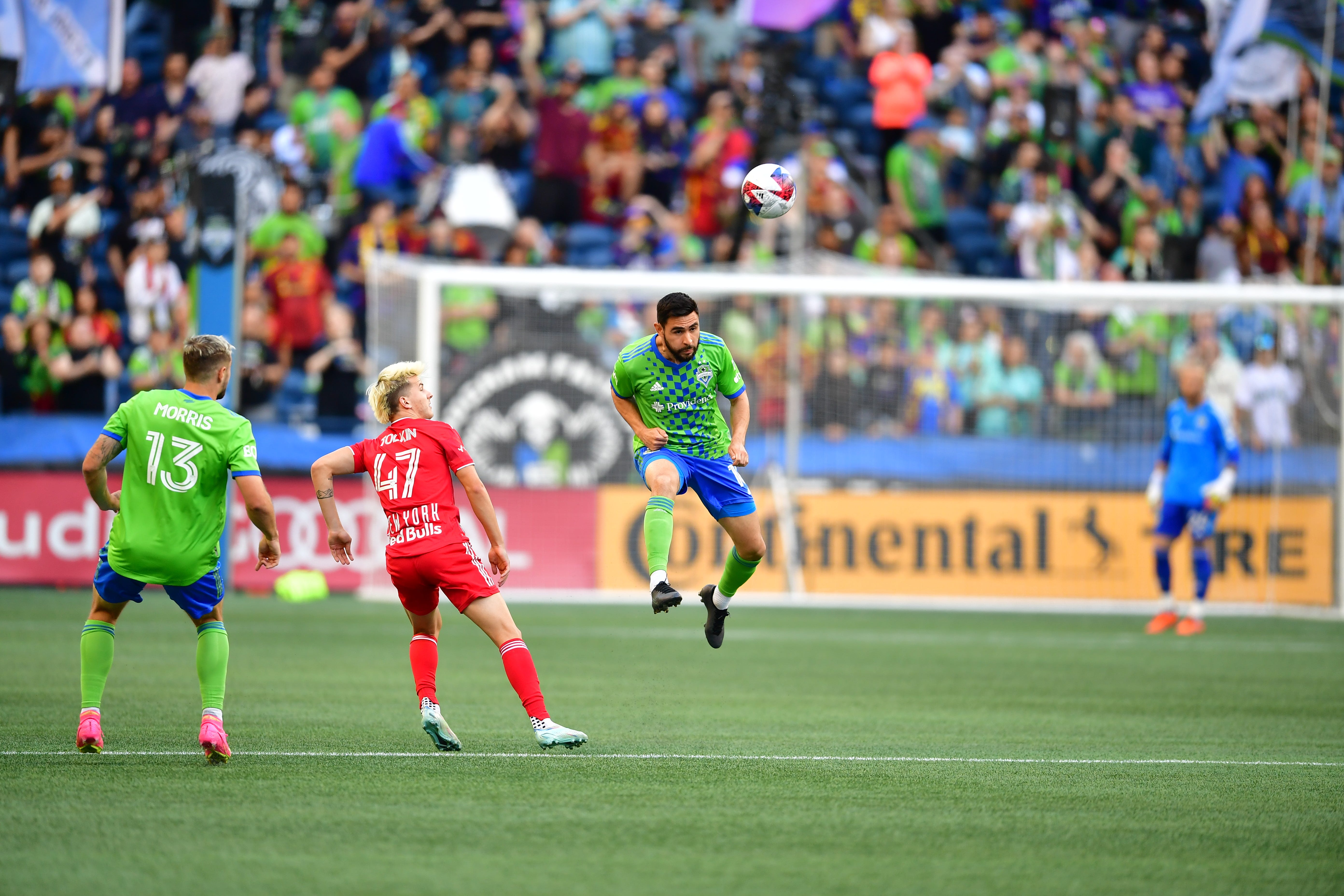 SEATTLE — Given a choice, most fans would surely prefer to watch their team run rampant over the opposition. It's aesthetically pleasing at its best and cathartic when results aren't otherwise going your way.
But there's also something to be said for watching your team grind out an important victory, especially when the brakes aren't going your way.
Heck, Dylan Teves would even have you believe that emerging from a game like Saturday's against the New York Red Bulls with a 1-0 win is actually preferable. The Sounders managed to overcome losing Jordan Morris to an injury, numerous missed opportunities to extend their lead and finally playing for about 15 minutes a man down after João Paulo was sent off.
"It's definitely better than an easy victory," Teves told me at Tuesday's training session. "It was much more emotional too. Going down and wanting to fight for those guys who weren't able to be with us until the end of the game, just embracing the hard work and getting more satisfaction out of a win."
I'm not sure if I quite buy that, but Teves is about as sincere as they come so I'm not questioning that it comes from an honest place. I'll also add that it was legitimately impressive how the Sounders saw out the game after João Paulo's ejection. There was no sense of panic, with the Sounders picking the right times to just boot the ball away while still looking for opportunities to possess the ball deep in the Red Bulls' end.
Here are my other observations from the match:
Plenty of chances
Aside from the unquantifiable benefits of winning a hard-fought game, it should be said that the Sounders showed some decent attacking movements throughout. The play Jordan Morris scored on was probably the best chance of the day, but he had missed a very good look at a header a bit earlier. That play started with Cody Baker playing in a great ball that Nicolás Lodeiro then fed to Morris for an open header that he put high. Héber also, again, found himself on the end of several chances and Dylan Teves had a good look that was set up by Léo Chú. Add it all up, and the Sounders finished with 1.8 xG. That might not sound super impressive, but it was the most the Red Bulls have allowed all year.
"Someone is going to catch fire," head coach Brian Schmetzer said when asked about the chances the Sounders have been creating but not finishing. "Héber is going to score, he's getting enough chances."
Cody Baker's emergence
There's never been much hype around Cody Baker, but I'd be hard-pressed to name anyone in the organization whose stock has risen as much as the Issaquah native's has this year. Baker came into the season on the bubble for making the roster as a backup right back and then opened the year with an injury that effectively relegated him to Tacoma Defiance. But needing someone to fill in at left back, the Sounders turned to Baker for a U.S. Open Cup game and he's seized the opportunity. Against the Red Bulls he was calm in possession despite facing a press-happy defense and even unlocked a couple attacking sequences. I still don't know quite how high his ceiling is, but his floor appears to be a very competent starting-caliber MLS fullback who can play on either side. That's a pretty good place to start at 19.
Special connection
I don't think the Sounders will ever have a connection quite like the one between Obafemi Martins and Clint Dempsey, but the one that's emerging between Léo Chú and Jordan Morris is pretty special in its own right. Chú's assist to Morris was the sixth time they've connected on a goal, with five of those being primary assists from Chú. That's only one shy of the Sounders' team record — Mauro Rosales set up Eddie Johnson six times in 2012 and Martins set up Dempsey six times in 2014 — but also starting to approach an all-time record. Best I can tell, that belongs to the Julian Gressel-to-Josef Martinez connection which resulted in eight goals during the 2019 season. What was especially encouraging about this goal was that they were both deployed as wingers, where they are probably more likely to be on the field together going forward.
Back in first
Given how the Sounders have been playing over the last month, you'd be forgiven for not realizing that they moved back into first place with Saturday's win. To be sure, it's a very precarious position. They are just one point up on both St. Louis City and LAFC, each of whom have at least one game-in-hand on the Sounders. Still, 26 points through 15 games is a pace of 59 points over the course of the season. That would be their fourth-highest total ever and surely good enough to at least guarantee home-field advantage through the first round of the playoffs. That they've done this while dealing with a steady string of absences that have affected every part of the field is notable as well. The Sounders have had to use more players than all but six teams, notably all of whom are below them in the standings. I know it sometimes doesn't feel that way, but the Sounders really are as deep as anyone in the league.
Looking ahead
I'm expecting to see a somewhat rotated lineup against the Earthquakes on Wednesday, but not necessarily in the spots I assumed. On Tuesday, we found out that Cody Baker suffered some sort of injury and that Albert Rusnák missed a couple days of training to deal with food-poisoning. The big thing to watch will be how Sota Kitahara looks in his first MLS start. The Homegrown Player has looked solid if unspectacular in his appearances for the Defiance this year and this will be a good test.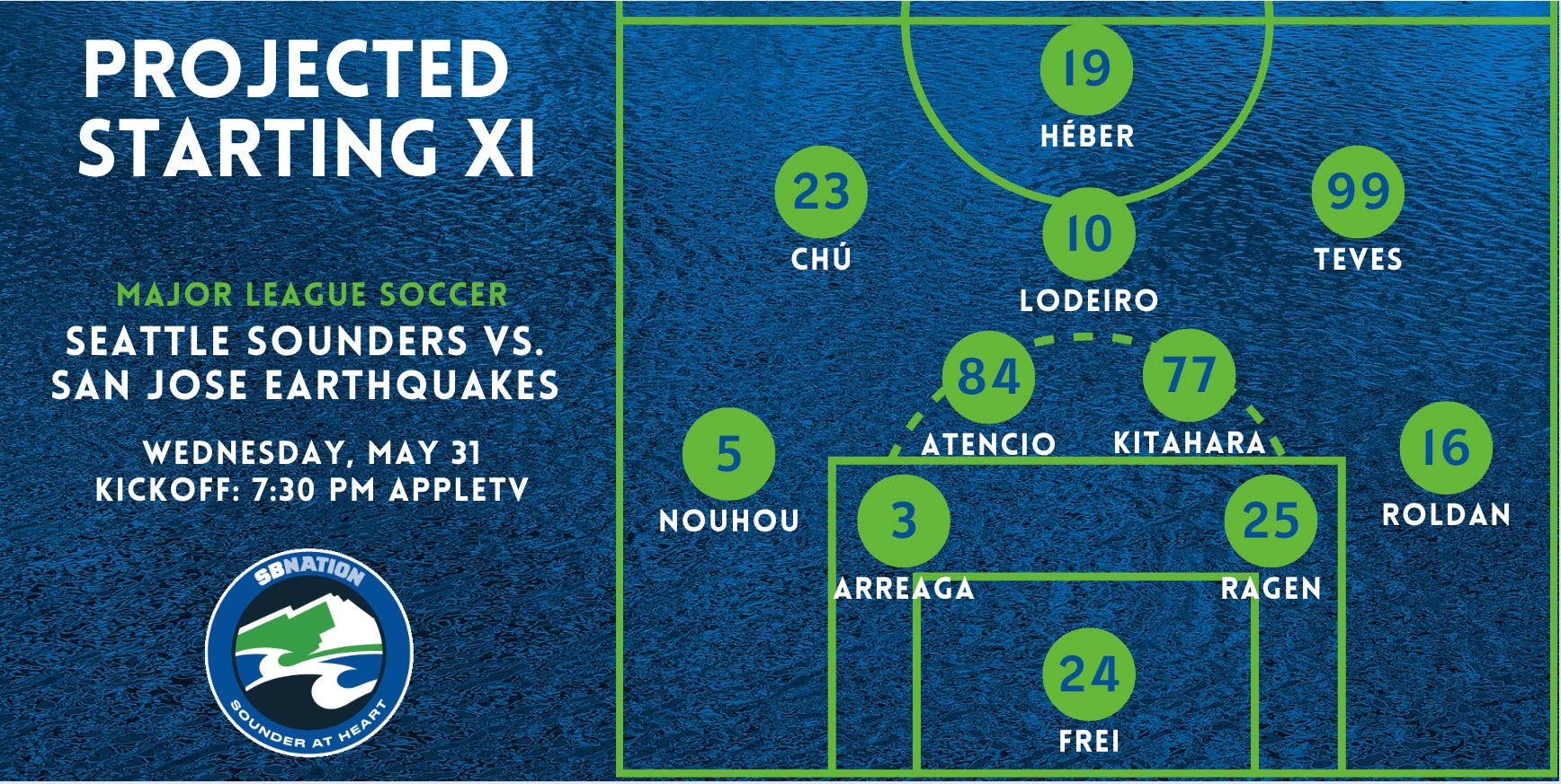 Everything else you need to know
Comments