On Sunday, OL Reign did something it hasn't done under head coach Laura Harvey for more than a decade: the team lost its third straight regular season match. Their 2-1 defeat on the road against Angel City also marked the first time in two years that the Reign lost to a California team.
Now, OL Reign sits sixth in the league with five games remaining. Only six teams advance to the playoffs, which means every point matters from here on out.
There was some good news heading into the weekend. For the first time all season, every player was healthy and available for selection. After some disappointing recent results, Harvey knew that this match against Angel City was a chance for the Reign to re-establish their identity and get some rhythm.
"Now that we've got everybody back together, I think we have to try and find out who we truly are. I think we've done a lot of mixing and matching throughout the year in different positions, and it's now trying to get as close as we can to putting out what we feel is our strongest team to start and end games while still keeping everybody in it."
That strong start didn't happen on Sunday, when Harvey swapped goalkeepers – replacing Phallon Tullis-Joyce with Claudia Dickey – and put three defensive-focused players in the midfield, pushing Rose Lavelle to the right wing in her first minutes with the Reign since April 1, although she cut inside frequently to get involved.
Here are three stats from OL Reign's loss.
1
The first half was extremely frustrating. The second half – especially the final 30 minutes – was much better. In fact, Angel City had only one of its five total shots in the second half, compared to 10 shots in the final 45 minutes for the Reign. Unfortunately, that lone Angel City shot became a goal when Madison Hammond beat her mark into the box on a set piece and shot through the arms of Claudia Dickey.
If there's one reason Reign fans can feel optimistic, it's that the second half featured the return of Megan Rapinoe and Jess Fishlock – and both of them injected more urgency and forward-looking ball movement into the game.
"I thought in the first half our quality wasn't good enough. We didn't move the ball quick enough and got punished on that because we gave it away and then obviously they got in behind us," Harvey said after the match. "I felt like we were the better side in the second half. I felt that we were pushing and probably if the game had lasted five more minutes, we maybe would've had another chance to get an equalizer – but we can't have a first half like we had, really."
It's not a simple task to re-integrate nine players who missed the last two months (our eight World Cup players and Fishlock). Here's hoping the Reign are able to build off the momentum they had in the final 30 minutes against Angel City.
37
It might surprise you to learn that the Reign had a season-high 37 passes into the final third. A lot of that forward aggression came in the second half when the Reign put Angel City under a lot of pressure but could only find one goal.
Left back Lauren Barnes led this category for the Reign, with 10 passes into the final third. Most of those came in the final 45 minutes, when Barnes found Rapinoe repeatedly on the left wing.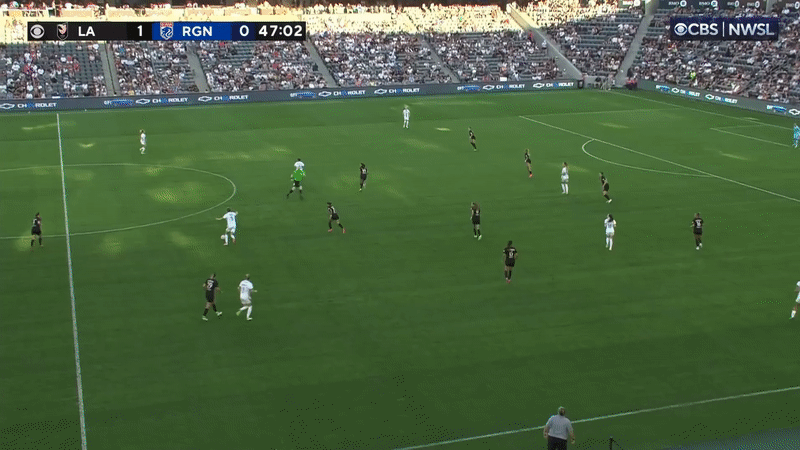 As a result of this strong connection between the two Reign "OGs," Rapinoe led the team with seven shot-creating actions in her second-half appearance – another reason for some optimism as the Reign close out the season. Rapinoe stretches the field unlike any other player the Reign have on their roster. That should open up more pockets for the team in their final matches.
Unfortunately, while the Reign were able to find Sofia Huerta for a few shots, Angel City did well to prevent her from getting dangerous crosses off. As the graphic below demonstrates, most of the Reign's shot creation came from the left.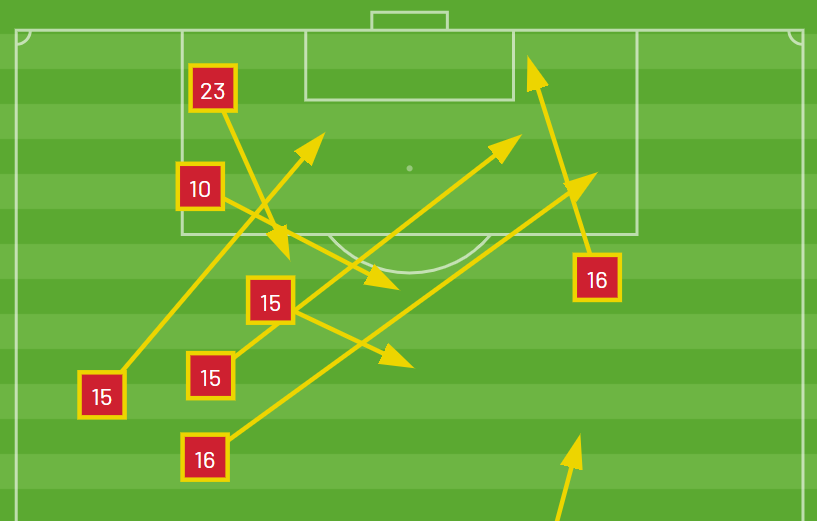 5
In this league, every game is a battle – and if you want to head to the playoffs, you have to be hard to beat at home and on the road. OL Reign haven't done enough to get points on the road, and their result on Sunday brought them to five losses on the road.
In 2022, the Reign were 5-3-3 on the road, good for 1.63 points per road match. This year? 2-5-2, which is .89 points per match.
That's not good enough. They have two road matches left, against Chicago and Portland, where they can try to turn their road record around.
---
OL Reign is finally back at home on Sunday, September 3, hosting the Orlando Pride, who sit just two points behind them. The match kicks off at 3 PM PT and will air on FOX 13+ along with streaming on Paramount+ and NWSLsoccer.com for international viewers.
Comments