Now that the summer transfer window has quietly closed on the Seattle Sounders, it probably makes sense to level-set on what this all means for the future. Before we get too deep into that, however, I will note that it's still possible for the Sounders to make some moves before the roster freeze on Sept. 13. There are basically two types of players the Sounders can still add: those who are already in the organization or those who were free agents before the transfer window closed on Aug. 2.
When Sounders GM Craig Waibel last met with local media in mid-July, he was pretty much unequivocal in his position that he was only interested in adding players if they made the team "significantly better."
Of course, a few things have changed since then. The biggest is that Waibel's statements were predicated on the assumption that the Sounders were going to be something very close to full health. With Cristian Roldan suffering another concussion, it feels a bit presumptuous that we're ever going to see this team's ideal XI for an extended period of time. The other big change is that the Sounders haven't won any of their past four games. Put that all together, and it would seemingly make sense to give them some sort of injection.
Assuming the Sounders don't make a big move, however, is probably still the smart bet. What hasn't changed is the underlying reality that the Sounders don't have a lot of salary-cap flexibility, so unless they're suddenly willing to buy out one of their bigger contracts or decide to place someone on the season-ending injury list, they just don't have a ton of options.
Rather than consider what that means for this season, I think it's interesting to think about what it means for the future of the team. What I think is undeniable is that this upcoming offseason promises to the most interesting and possibly the most consequential in club history.
That's not hyperbole. Just based on players who will be out of contract or have an option due, the Sounders can potentially free up 54% of their total salary spend and 52% of their salary-cap space. Among those players are Designated Players Nicolas Lodeiro (out of contract) and Albert Rusnák (contract option), as well as highly-paid veterans like João Paulo (option), Héber (option), Xavier Arreaga (option) and Stefan Frei (out of contract).
As if that wasn't enough, Waibel seemed to hint that some players who are under contract in 2024 aren't guaranteed to be back either.
"It's the time of the year where we find out if our big players are as big as we think they are," Waibel said during a recent interview on the Side x Side podcast, specifically noting that the Sounders need better production out of the 9 and 10 spots. "There's no clarity on how to make a decision on the future of the club. We've got two to three guys who are still earning the next opportunity and one or two who are under contract but have to perform if they're going to be here next year."
Regardless of how this season ends, I think the roster is due for a pretty serious reset. Even if the Sounders finish strong, the core of this roster has effectively been together since 2018. Heck, the Sounders only have two players on the roster who were brought in from outside the organization over the last five transfer windows and the first team hasn't spent any money on transfer fees over the last four windows. Some significant change is probably overdue and there's every reason to believe there's the budget and flexibility to make it happen.
Here's how I see the roster shaking out:
Sounders will open at least two DP spots
Lodeiro is the most important player to ever suit up for the Sounders and has delivered in every possible way. If the Sounders ever start enshrining their legends, Lodeiro needs to be first on that list. But he's just not the same player anymore and I'm not sure his personality or playing style are really suited to be a role player. I have a hard time imagining a scenario where he's back, even if he takes a pay cut. I would hope, however, that the door remains open for him if he wants to return in some sort of post-playing capacity.
Albert Rusnák's situation is a little trickier. I can only speculate as to why the Sounders signed him for just over max-TAM (he's on about $1.8M), and he's apparently due a raise for his 2024 option. I'm as big of a Rusnák fan as anyone, but I just don't see how the Sounders can bring him back as a DP. If I'm Waibel, I explain to Rusnák that whatever he was promised, that was two years ago and the option was probably under the assumption he'd take over for Lodeiro as the No. 10. I don't think Rusnák has shown he can be the 10 the Sounders need now, so I'd offer him a max-TAM deal for a couple years to be more of a Swiss Army knife. I'd love to bring him back, but only under the right terms. I think the Sounders will probably figure out how to get that done and free up that DP spot.
Raúl Ruidíaz's situation is even more complicated since he's actually under contract for 2024. My understanding is that he's been trying to get a contract extension, which I can't imagine the Sounders are even considering. When Ruidíaz is healthy, he's as productive as any striker in MLS. Unfortunately, the Sounders simply can't rely on him staying on the field as he's only played in about half of their games over the last two years. If there's a way for the Sounders to unload his contract, they'll need to give that serious consideration and depending on how this year goes, they might even consider offering him a buyout.
At least two TAM players will also leave
Of the three TAM players whose contracts are either expiring or have options due in 2024, João Paulo would seemingly be the safest to stay. The Brazilian has barely missed a beat since returning from a torn ACL and for my money remains one of the best two-way midfielder in MLS. At 32, it's fair to wonder how many good years he has left, but there's absolutely no reason the Sounders should hesitate to pick up his 2024 option and I'd hope they're working on an extension beyond that as well.
I'm far less sure about the future status of fellow Brazilian Héber. After a blazing start, he's gone stone cold in front of goal even though he continues to put himself in dangerous positions. Some of his 20-game goalless drought is bad luck, but he has to find a way to finish some of those chances. Suffice it to say, he's probably due a raise on his $1M salary and there's simply no way the Sounders can pick that up barring a very dramatic turnaround.
I've long been a believer in Xavier Arreaga's skillset, but the his Sounders future was in doubt as soon as Jackson Ragen won the starting spot during the Club World Cup. I can understand why the Sounders resisted the urge to trade him early in the season — they still would have need to backfill their centerback depth — but I also suspect the offers they received weren't all that compelling. Part of that is because he's on a pretty big contract — $750,000 — with two more option years. With Ragen struggling a bit now, it will be interesting if Arreaga has a chance to regain his starting spot after he returns from injury. Even if he does, I suspect the only reason the Sounders would pick up his option is because they think they can get some value by trading him.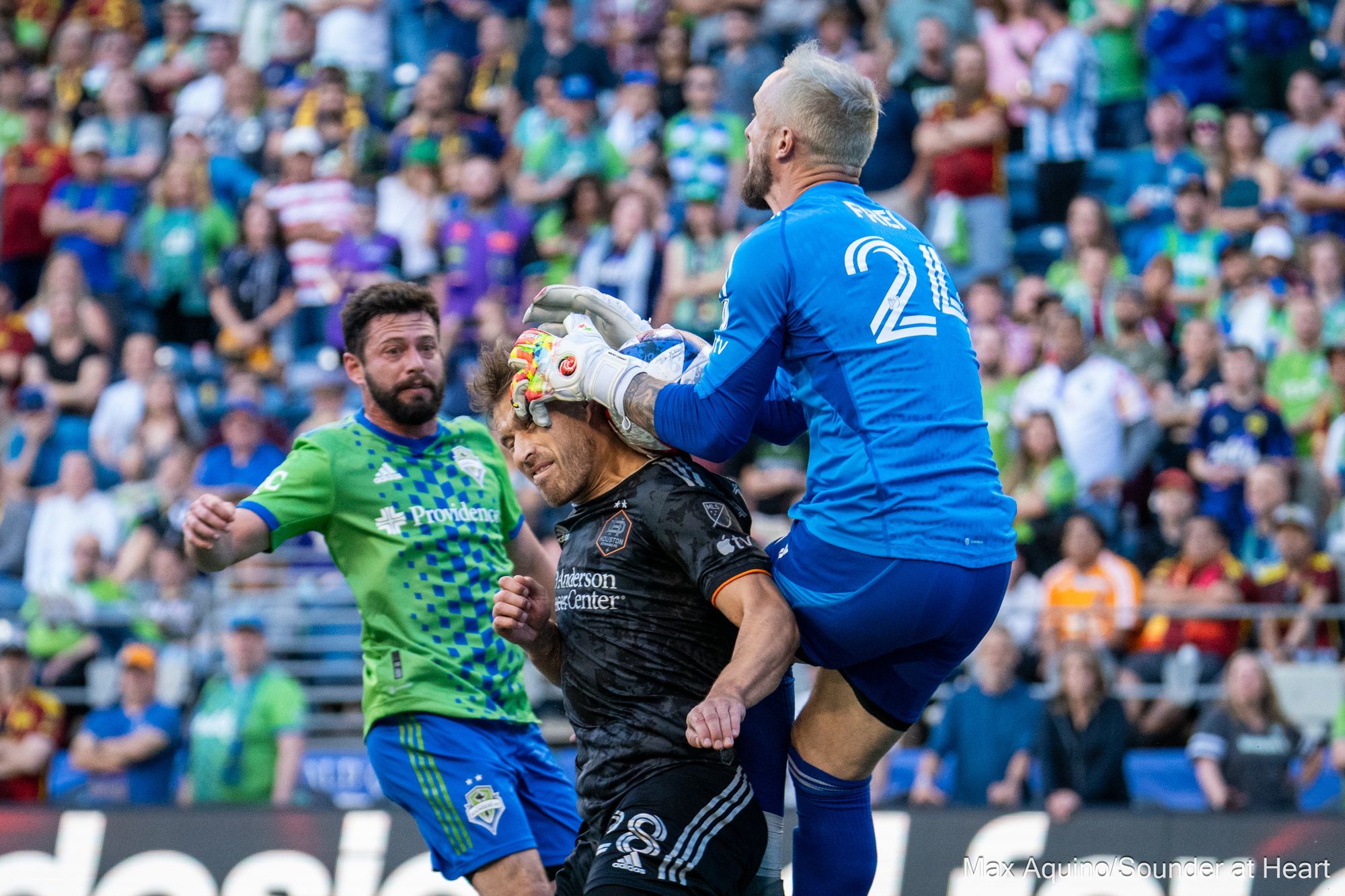 One of the veteran goalkeepers has to go
Like Lodeiro, Stefan Frei has established himself as an all-time Sounders great. He's done more both on and off the field than anyone could possibly expect. Still, he's the sixth-highest paid goalkeeper in the league at $650,000 and I'm not sure you can expect him to be a Top 5 goalkeeper going forward. That said, I don't think the Sounders need a Top 5 goalkeeper to be competitive, and if Frei is willing to take a pay cut in order to remain in his adopted home, I hope something gets done.
What the Sounders can't afford to do if they reetain Frei is to bring back Stefan Cleveland as well. Cleveland has shown himself a capable starter in spurts, but it's hard to ignore that he's now allowed at least two goals in each of his past six starts across all competitions. Assuming he's due a modest raise, paying a backup goalkeeper about $250,000 isn't out of line, but there are two very promising goalkeepers on the roster that he'd be effectively blocking. Unless the Sounders are willing to turnover the starting job to Cleveland, I think they have to let him go.
It's probably time to say goodbye to a couple other veterans, too
When the Sounders signed Kelyn Rowe at the start of 2021, it was not entirely clear what kind of role he could play. It turned out, he could do a lot of things at a perfectly competent level. I don't think any reasonable observer can say he didn't exceed expectations and ultimately provide value. Still, I think the Sounders can probably put the $300,000 they paid him this year to better use in 2024.
Much of the same can be said about Fredy Montero, who also came to the Sounders in 2021 with more of a feel-good vibe than an obvious role. Montero is another player who will go down in Sounders history as a genuine legend and I suspect he'll be around the team for a long time to come. I don't think he'll be playing for the Sounders next year, however.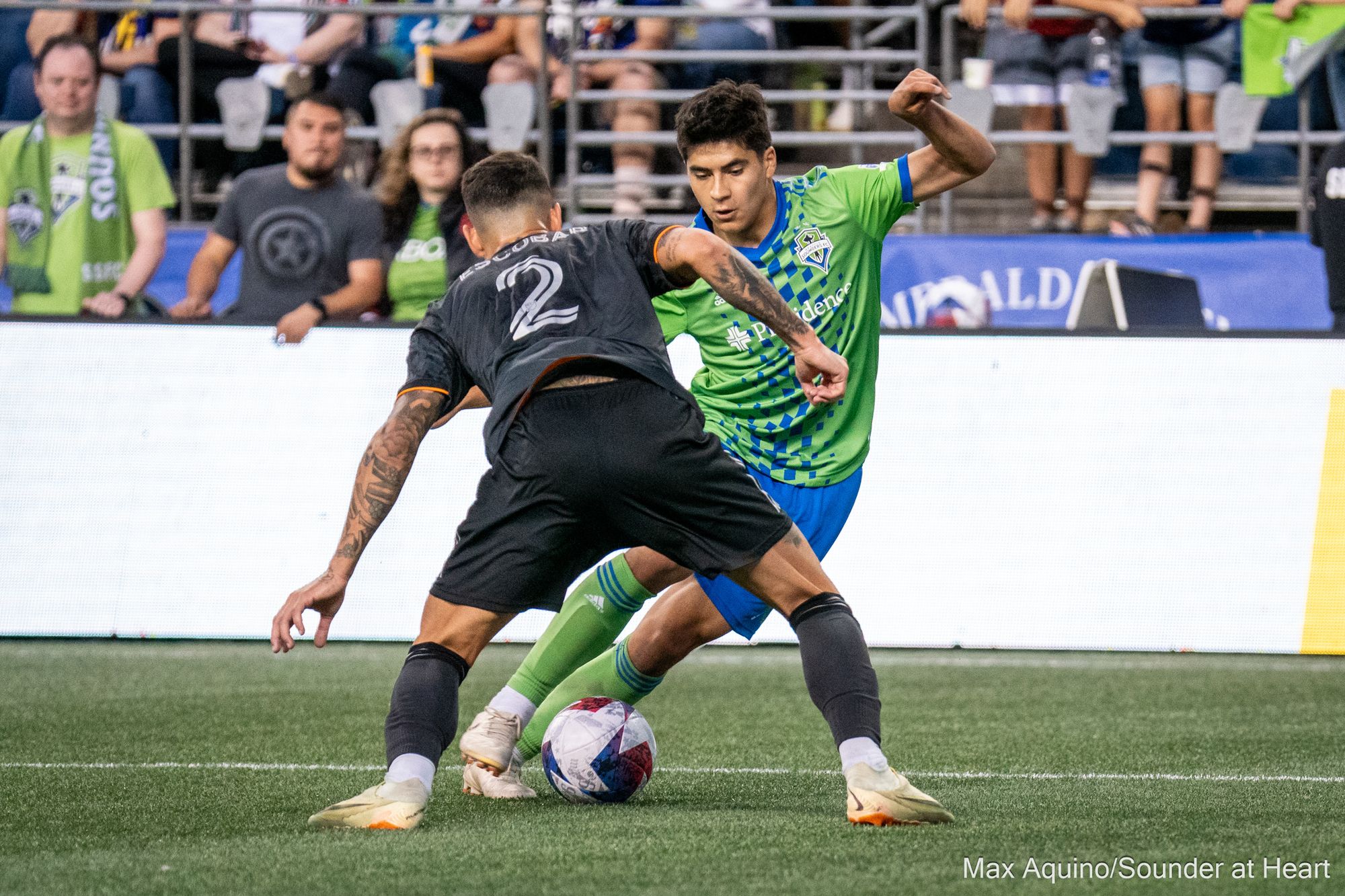 Maybe a youngster gets transferred as well
It's been well-documented that scouts have been watching Obed Vargas this year. Vargas only just turned 18 a few days ago, but he's now eligible to make a move to Europe where the transfer window doesn't close until the end of the month. As inconsistent as he's been for the Sounders, I know talent evaluators still love his potential. I would not be at all surprised if someone makes a big offer for him, but lets him stick around to finish out the season with incentives to keep him getting minutes.
Reed Baker-Whiting has also long been on the radar of European scouts. I am less sure how his relative lack of playing time has affected their interest, but he does seem to have successfully transitioned to right back and has shown some real promise. I wouldn't rule out a transfer, but also wouldn't mind seeing him given a chance to compete with Alex Roldan for the starting spot next year.
Danny Leyva has been a bit of a forgotten player since being loaned to the Colorado Rapids, where he's at least getting consistent first-team minutes. Unfortunately, the Rapids have been pretty bad this year and he's not exactly dominating games either. With a supposed market-value if about $2.5M, he's still a theoretically valuable asset and if the Sounders find a buyer at anywhere near that price they'd likely be inclined to let him go.
Of the younger players who have expiring contracts or options due, the only one I don't really expect to be back is Abdoulaye Cissoko. You can still see promise in his play, but at 23 the team is still reluctant to give him significant minutes and have a few centerbacks at Defiance who could surely fill his roster spot — Hal Uderitz and Stuart Hawkins being the most likely.
Bigger roles for holdover players
I really, really, really hope that Cristian Roldan can put his concussions behind him and return to full fitness in 2024. Such a turnaround is hardly unprecedented, I'll note, as Chad Marshall was able to return to Defensive Player of the Year form after battle concussions for a couple of years in Columbus.
The only big international event on the USMNT calendar is the Copa America, which hopefully means Morris should be able to spend most of the season focusing on the Sounders. I think he's due for a big year.
I feel like a broken record talking about Josh Atencio's need for more minutes, but there's so much still untapped potential there. There's recently been hints that the Sounders are coming around to the idea that he could be useful as a centerback. One way or another, he needs to get regular first-team minutes.
Léo Chú will be entering the final year of his contract next year. He's obviously enjoyed a breakout season with three goals and nine assists across all competitions, but his next deal will be fully against the cap. I think he still has some things to prove and I hope he gets that chance.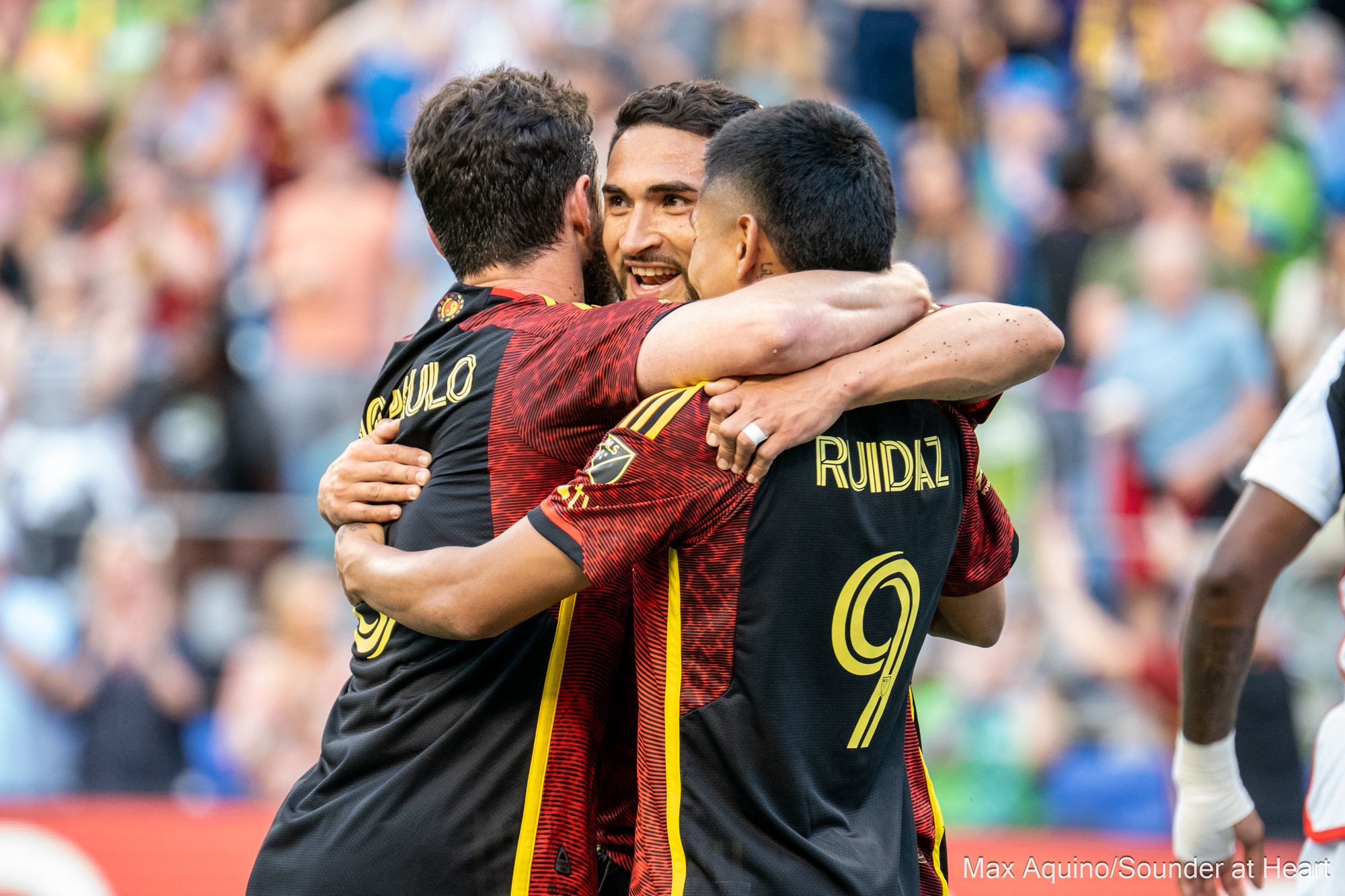 What's it all add up to?
I suspect the Sounders will probably open up about six senior spots, maybe a few more on the developmental side, potentially free up about $6M in total salary spend and create enough cap space to sign two Designated Players, two TAM players, two more U22s, maybe one more veteran and some other younger players from inside the organization. My suspicion is they'd try to fill at least one DP spot before the start of the 2024 season, fill the other spot with an "accounting mechanism" in the short term and then fill it permanently in the summer.
I have to think the Sounders' top DP priority would be a DP No. 10. I won't pretend to know who that player would be, but I'd hope they target someone in their mid-20s, who can be here for a long time and build around in the next era.
The other DP spot should probably be reserved for a younger player, maybe even someone who has to be developed. Even if Ruidíaz is back and knowing that Jordan Morris prefers to play up top, I think the Sounders need to target a No. 9. That might even be a preferred scenario as there would be less pressure for that player to start right away.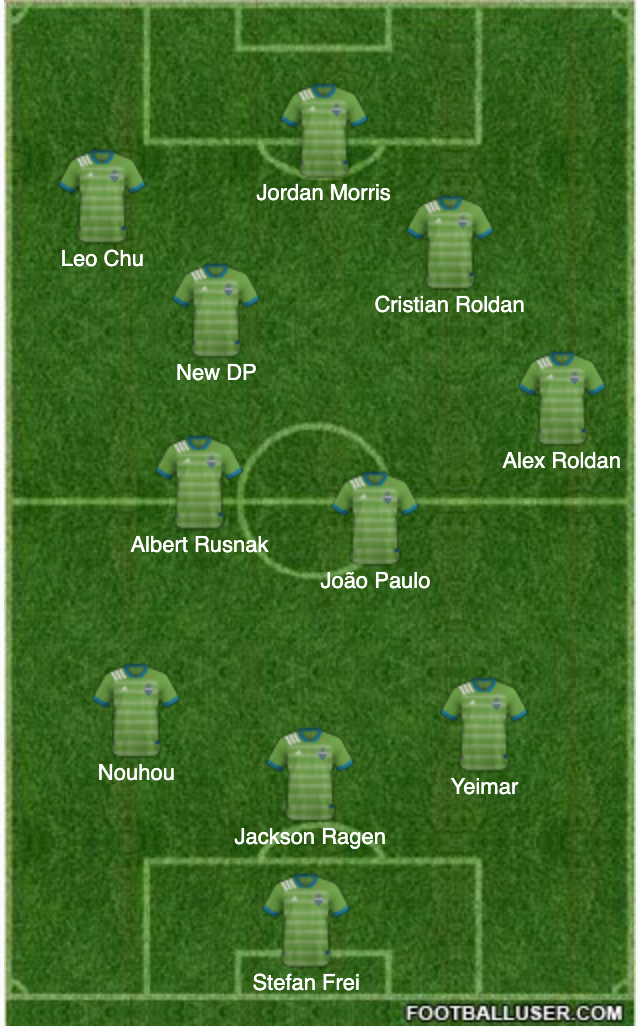 I think it makes the most sense to use the U22 spots on outside players, maybe a winger and a fullback. As much as the Sounders have struggled at times this year and as much turnover as I expect, I still think these spots can be more developmental.
Defiance have a few intriguing prospects as well. My understanding is that Stuart Hawkins would earn a first-team contract if he makes the U17 World Cup roster later this year, but he's probably still a year or two away from contributing senior minutes.
It's possible Antonio Herrera (Mexico) and Chris Aquino (USA) also make U17 World Cup rosters, but I don't think either are as close to first-team contracts.
Among Defiance players, Paul Rothrock (24) and Hal Uderitz (23) are a little older to be considered developmental but have both done enough that I think they'll at least get serious consideration for first-team roster spots.
I know the Sounders paid a significant transfer fee for Georgi Minoungou (around $500k), but an eye injury set him back and I think the best-case scenario for him might be spending another year with Defiance to see if he can regain his form.
In terms of raw numbers, I think we'll probably see 6-9 new faces on the roster. What sets this offseason apart is how many of those players would be at the top of the roster. Such change is probably fitting as the team prepares to unveil an updated brand identity, moves into the Longacres training facility and celebrates its 50th year of existence. Given their track record and assuming robust investment, I think the Sounders are well-positioned to head into their new era on strong footing.
Comments