It's win or go home for OL Reign tonight. In front of their home fans at Lumen Field, the Reign take on Angel City FC in the NWSL playoff quarterfinals. The match kicks off at 7 PM PT and will stream on Paramount+ and CBS Sports Golzao (free!) for fans in the U.S., and on the NWSL website for international viewers.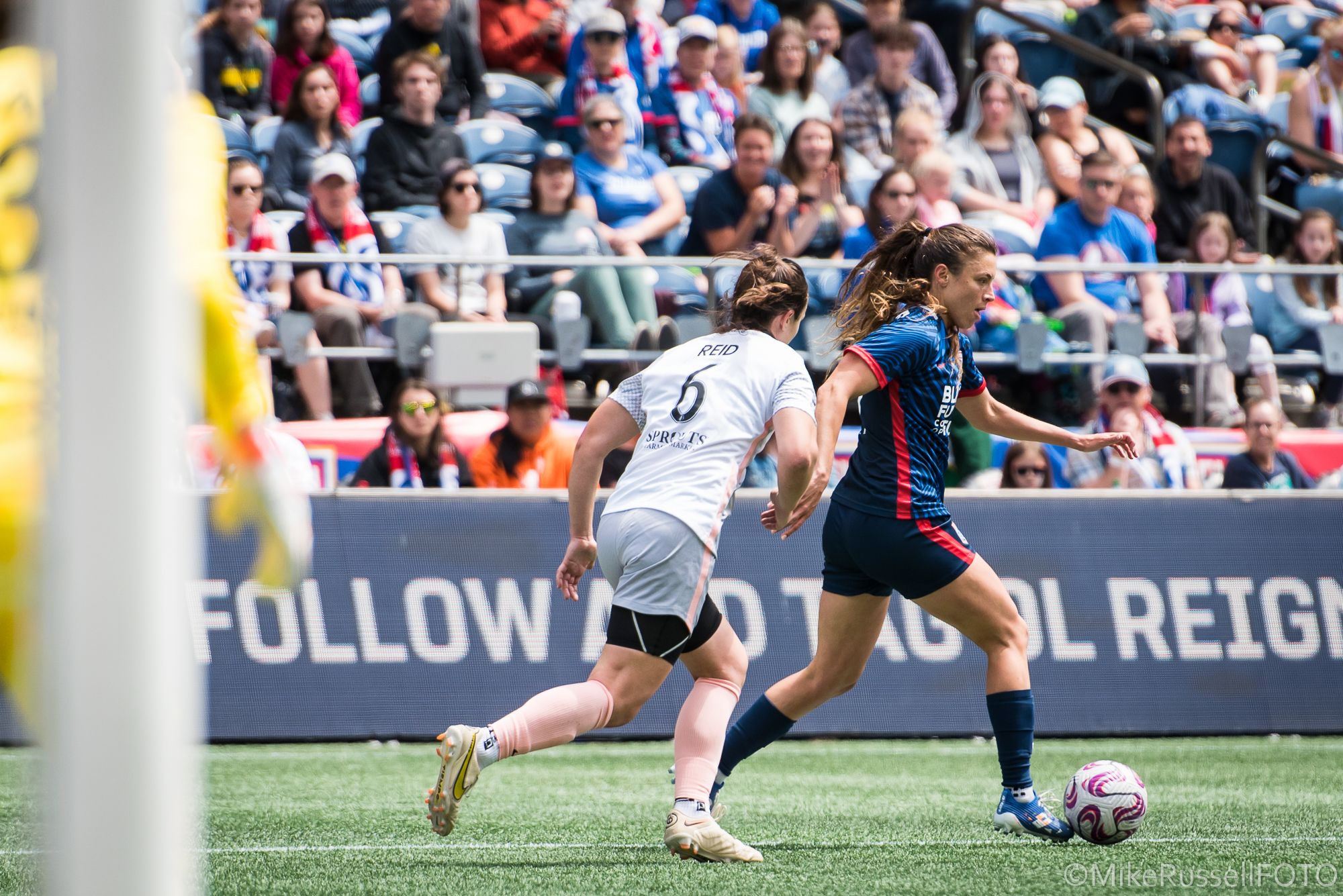 OL Reign earned the right to host the match after finishing the regular season in 4th. With a late-season surge, Angel City qualified in the 5th place spot on the last day of the season with a resounding 5-1 win over the Portland Thorns.
The Reign are looking for their first playoff win since 2015 – and maybe the momentum to finally unlock the NWSL Championship that's evaded them.
Friday's game gives fans a final chance to watch Megan Rapinoe at Lumen Field before she retires. If OL Reign wins, they'll travel to San Diego to face the Wave in a semifinal match on Sunday, November 5.
What to Watch
Reign's ball movement: Angel City is a team that likes to press and transition on teams. How does the Reign handle this?
Early momentum: OL Reign is 4-0-0 when leading at halftime, 4-0-2 at home when tied at halftime, and 8-0-1 when scoring first. Early momentum matters in a playoff match: can Reign convert any of their early chances into a goal, or at least pressure Angel City with early shots?
Defense wins games: Angel City plays expansive soccer and likes to stretch defenses. The Reign have contained them well in the past.
Officials
Lineups
OL Reign:
ACFC:
Highlights
First half ends 0-0.
65th minute sub, OUT: Quinn, IN: Rose Lavelle
69th minute sub, OUT: Clara Emslie, IN: Alyssa Thompson
76th minute sub, YELLOW card to Savannah McCaskill for a harsh foul on Jordyn Huitema, who is injured on the play.
79th minute sub, OUT: Jordyn Huitema, IN: Bethany Balcer.
81st minute subs: OUT: Ali Riley, Sydney Leroux, Scarlett Camberos; IN: Jun Endo, Clarisse Le Bihan, Jasmyne Spencer.
87th minute GOAL: Veronica Latsko finishes off a cross from Phoebe McClernon!!! 1-0 Reign.
89th minute sub, OUT: Madison Hammond, IN: Katie Johnson.
90th+ minute sub, OUT: Megan Rapinoe, Sofia Huerta, IN: Olivia Van der Jagt, Nikki Stanton.
FINAL: REIGN 1 - ACFC 0, the OL Reign are moving on in the playoffs to face San Diego Wave.
Injury / Availability Report
OL Reign
OUT: None
Angel City
OUT: Simone Charley (SEI – achilles), Brittany Isenhour (concussion), Merritt Mathias (knee), Christen Press (SEI – knee)
How to Watch
Time/Date: Friday, October 20, 7 PM PT
Location: Lumen Field, Seattle
Streaming: Paramount+ (U.S.), CBS Sports Golazo (U.S.), NWSL Website (International)
Join the Discussion
This is your OL Reign v. Angel City gamethread. Join the discussion about the playoff battle in the comments or on our Discord for paid subscribers, and follow @RoValks on Twitter for live updates.
Comments