On Sunday, OL Reign had a tough task: take down the San Diego Wave in a knockout playoff game, a team that had lost just once in seven matches and came away with the 2023 NWSL Shield.
The Reign put on another defensive display and again got a goal from Veronica Latsko to seal a 1-0 win on the road.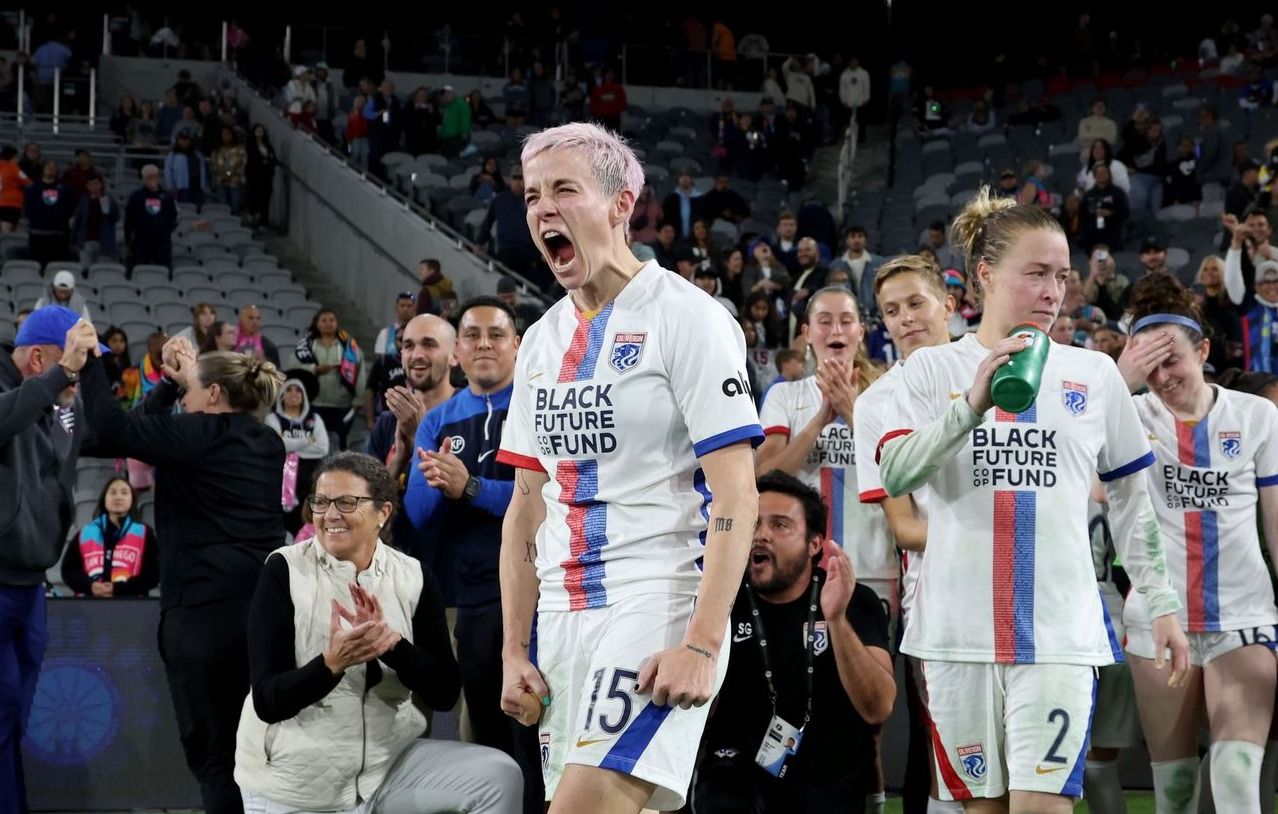 Here are three stats from the Reign's first semifinal win since 2015.
288
San Diego had 288 touches in the middle third of the pitch on Sunday evening. That's just one under their highest total of any competition this year. As we shared in our preview, San Diego presents a threat with balls in behind defenses – and Abby Dahlkemper on the backline is particularly dangerous. They were at the top of the league in touches in their defensive third.
But they weren't passing from as deep on Sunday. That's because OL Reign defended a little differently. The team was comfortable letting the Wave have the ball in the middle because it meant less space for long balls in behind.
"One of the differences this time is Abby Dahlkemper was playing," head coach Laura Harvey said in reference to this being the fifth time this year the Reign faced the Wave and wanting to offer a slightly different look as a result. "She adds a little bit of a different dynamic to them. We've done lots of different things against them, and one of the things that we know works well is if we don't give them space behind – and I can't think of any moment they really got behind us, which is big against these guys."
The Reign pulled their two wide players – Megan Rapinoe and Veronica Latsko – deeper, opting not to high press on the wings. Rose Lavelle and Jordyn Huitema alternated between pressing on the centerback with the ball and cutting off balls to the holding midfielder.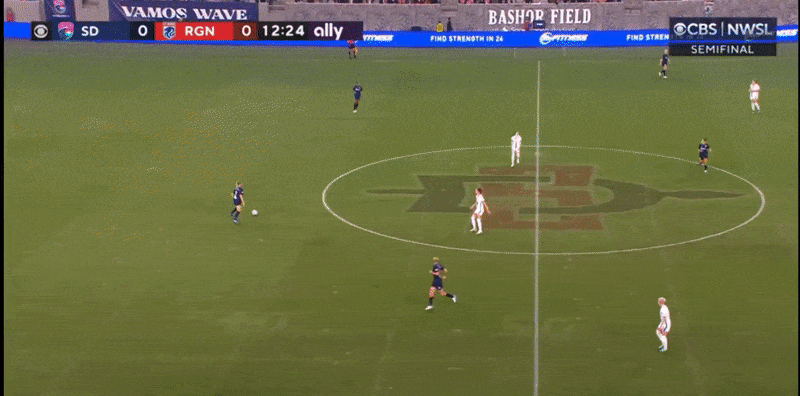 Rapinoe and Latsko picked strategic times to pressure the Wave midfielders and found some good opportunities in transition this way.
Meanwhile, Jess Fishlock and Emily Sonnett worked hard to prevent balls into space just in front of the backline, a spot Dahlkemper and Naomi Girma look for regularly.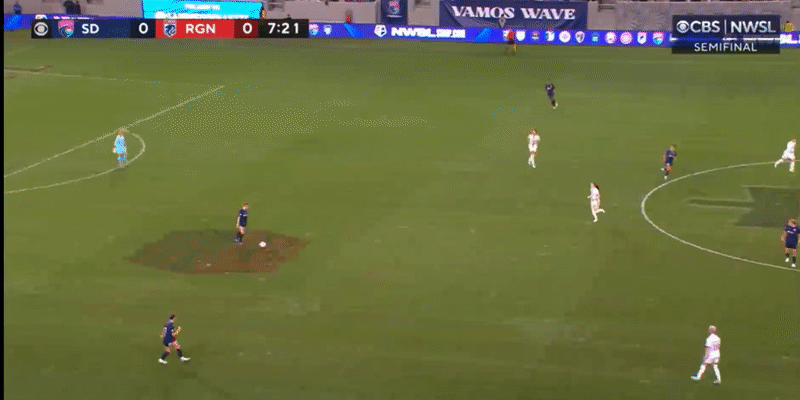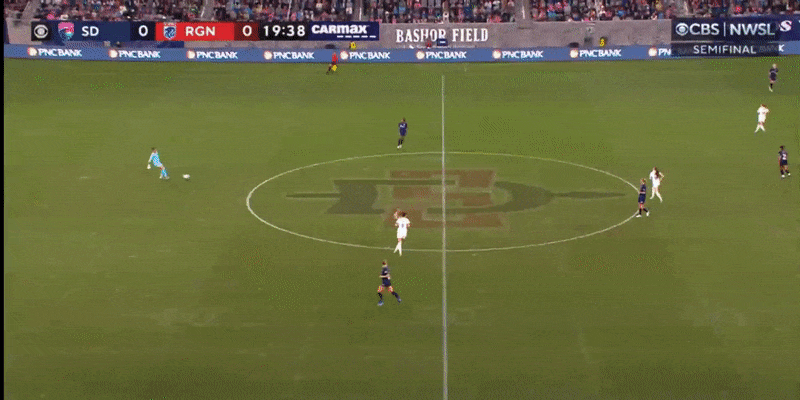 As a result of the Reign's organization, they held San Diego to just two shots in the first half – and neither was on target. The Wave managed just one through ball as well. In addition to not slipping behind the Reign defense, they weren't even pushing the line: San Diego, who led the league in the category heading into the match, didn't have a single offside call.
As the game progressed and San Diego got more and more desperate for an equalizer, they went a bit longer and played more direct. They had a couple of decent looks as a result, but OL Reign handled the pressure well – holding the Wave to just 0.6 expected goals (xG).
5
This was the fifth time San Diego was shut out this season – and their seventh time across 29 games in all competitions. In more stunning fashion, four of those seven shutouts came against the Reign. The matches against the Wave continue to be extremely tight, physical battles – and for now, the Reign keep coming out on top.
It's now been 407 minutes since the Reign have conceded a goal.
While shifting Phoebe McClernon out to left back and pulling Lauren Barnes back to centerback has certainly been a factor in the Reign's steady defense, it's truly been a collective team effort from front to back.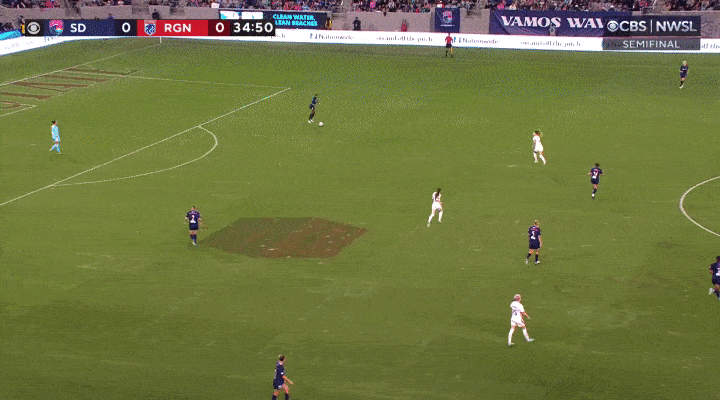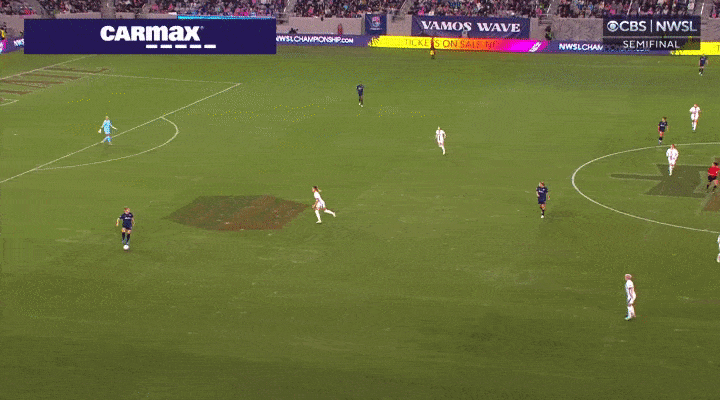 82
Lavelle went 82 minutes in just her fifth start of the year with the Reign, and while she didn't always find the perfect connection with teammates she was a clear difference-maker on the field.
Lavelle connected 80% of her 30 passes and finished the match with an assist, two shots, two successful take-ons, and a match-high seven progressive carries and six progressive passes.
"There's no one like her, she's so hard to defend," Harvey said about Lavelle after the game. "She travels at pace with the ball like no one else. And when we have her in our team, our dynamic is just different. We are solid, we're hard to play against. We don't concede a lot of goals."
---
OL Reign have one more chance to show their collective effort and talent, as the team faces NJ/NY Gotham FC in the NWSL final on Saturday, Nov. 11. That match kicks off at Snapdragon Stadium in San Diego at 5 PM PT and will air on CBS. Fans interested in attending in person can secure tickets in the Reign supporters section.
Comments